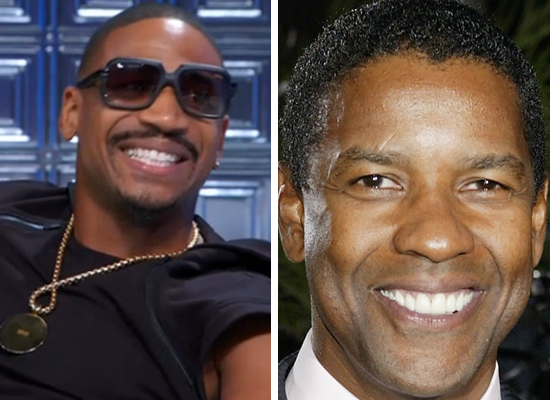 File this under fun facts you might not have known about Denzel Washington: Apparently, he's a huge fan of Love and Hip Hop Atlanta.

I mean, the show is one of my favorites things in life too, so I see the appeal. Still, that show doesn't scream "Academy Award-winning actor Denzel Washington would love this!"
But what do I know? According to Stevie J, Denzel is so into the show that he calls him regularly to talk about it. Not only that, but he's giving the Puerto Rican Princess, Joseline Hernandez, baby, tips on how to break into acting.
Something in the milk isn't clean, but this is hilarious as hell all the same.
We wanted to know if any of his celebrity friends admitted to watching Love And Hip Hop Atlanta, and he ran through a laundry list of stars who love it. "Yes. Snoop. Diddy. Judge Mathis. Denzel Washington," he told us. Denzel? Really? We asked him if Denzel ever tweets him, and Stevie told us no, Denzel is more the type to pick up the phone.

"He calls to talk about it," Stevie explained. "One time I asked him to call Joseline just to shake her up a little bit. She couldn't believe it. They talked for an hour and a half. She wants to be in movies so they talked about the movie business and how long he's been in the game. He gave her some pointers and tips." Denzel Washington has given Joseline acting tips. Apologies for not having a follow-up question, our mouth was hanging open too far to get words out.
Now, Stevie isn't exactly the most honest person and we all know he is in love with hyperbole and delusional behavior, so take this with a huge grain of salt. How big? About as big as the silicone boulders that that backdoor Mexican plastic surgeon shoved inside Karlie Redd's ass a few years ago.
Be the first to receive breaking news alerts and more stories like this by subscribing to our mailing list.