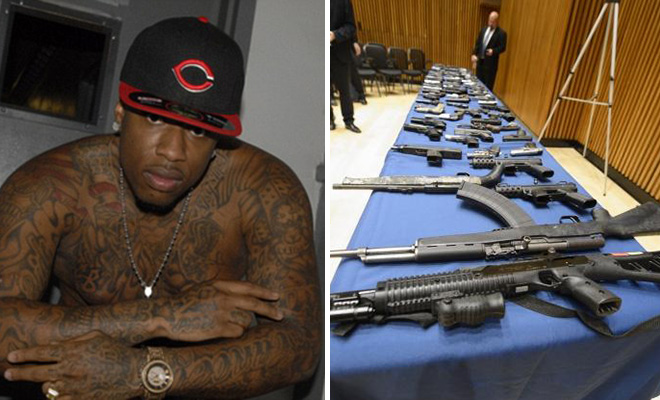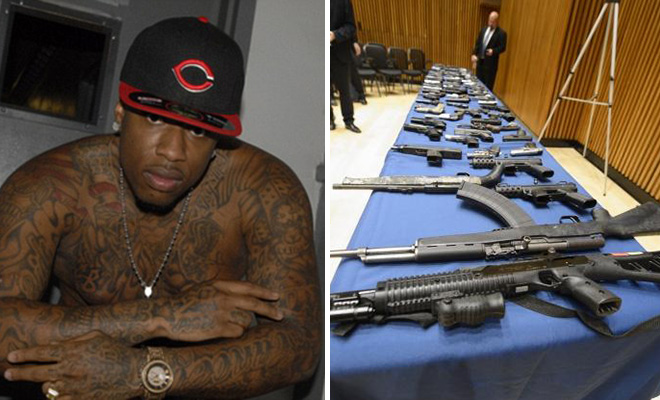 An aspiring rapper from Brooklyn named Neno Best was arrested for his part in a multi-state gun trafficking ring after he posted pictures of various guns and large sums of money on his Instagram account and also posted a video on YouTube, in which he bragged about "packing more guns than the Air Force."
According to the New York Daily News, after seeing his posts on social media, an investigator for the NYPD had began looking into Neno Best (whose real name is Matthew Best) last year, and on Monday (Aug 19), New York police announced that they had netted 254 illegal firearms and 19 arrests in NYC's biggest gun bust to date.
Of the weapons, one was a semi-automatic Soviet-era rifle, quite capable of shooting through thick walls, cars, apartments and even police armor. In fact, a NYDN source said that the gun could shoot "through a project door, through the next door, through a wall, through the next wall into the next apartment."
"Thank God these guns are off the streets," Mayor Bloomberg said during Monday's press conference. "There is no doubt that the seizure of these guns — the largest bust in the city's history — has saved lives. For that reason, every New Yorker, in every part of our city, owes a debt of thanks to all those involved in this investigation."
NY police said Best was selling the guns out of his makeshift recording studio in Brooklyn, and he had been buying the guns illegally from man named Adeji Omele, who was allegedly getting his guns from two men from the Carolinas — Earl Campbell of Rock Hill, South Carolina and Walter Walker of Sanford, North Carolina.
Best, Omele, Campbell and Walker are all among the 19 charged in the indictment. And to think, none of this would have ever happened if folks didn't feel the need to brag about things that are ILLEGAL on the Internet.
[NYDN, Daily Mail]
Be the first to receive breaking news alerts and more stories like this by subscribing to our mailing list.