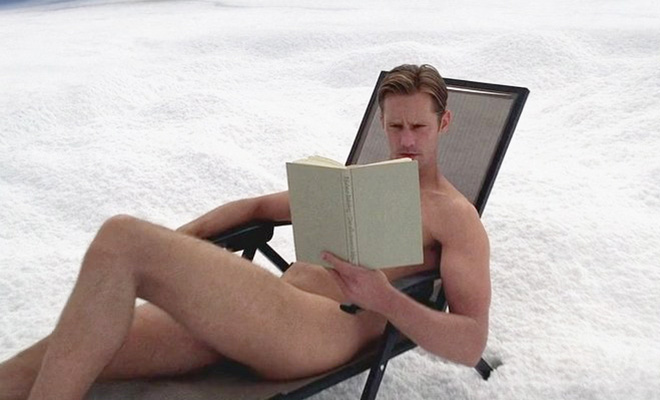 Sunday night's season 6 finale of "True Blood" was shocking for two reasons. For one, it featured full-frontal male nudity, courtesy of Eric (Alexander Skarsgard). And, two, it implied that the 1,000-year-old Swede may have met a fiery end.
Midway through the episode, titled "Radioactive," the faerie vampire hybrid Warlow was killed, meaning that all the vampires who had their blood in his system were no longer impervious to sunlight. This, however, did not work out to well for Eric, who was sunbathing in a chase lounge atop a snowy mountain in Sweden. Naked.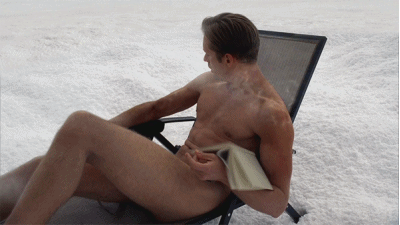 (GIF via)
The camera cut away and faded to black, as Eric burst into flames and cried out in agony, and the fate of TB's best character was unknown…until now.
In an interview with TV Line, "True Blood" showrunner Brian Buckner revealed that our beloved viking is very much alive. Oh, yeah, SPOILER ALERT.
"I can tell you that Alexander Skarsgard is going to be a part of the next season of 'True Blood.' He will be a series regular," he said. "I'm not going to take Alex Skarsgard out of people's living rooms."
Thank Lilith!
But will he be the snarky, smoldering Eric we know and love or will he be delivering his bawdy one-liners as a chard crisp of a man?
"Pam has gone off in search of Eric, and maybe she's going to be the one to find him, y'know?"
This at least clarifies some of our questions but we still have so many! Oh well, counting down the days until next June.
Be the first to receive breaking news alerts and more stories like this by subscribing to our mailing list.