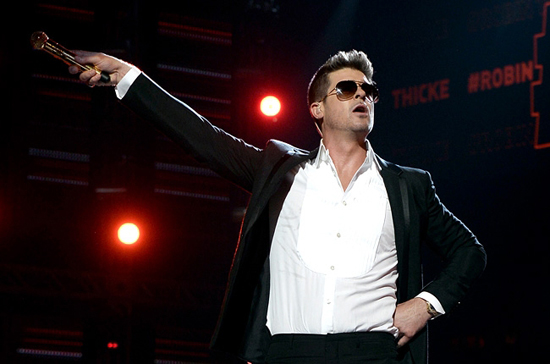 Any old head or a person who knows a thing or two about soul music of yore can tell that Robin Thicke's massive hit, "Blurred Lines," sure sounds a lot like Marvin Gaye's "Got To Give It Up."
These same people will two-step anyway, given that it's just hard not to jig to that Pharrell production. Nonetheless, members of Marvin Gaye's family and their cries of copycat have grown too loud for Robin Thicke's taste. The result is Paula Patton's husband filing a preemptive suit to prevent folks from coming for his publishing.
The Hollywood Reporter reports:
A lawsuit was filed Thursday in California federal court by the trio against Marvin Gaye's family and Bridgeport Music, which owns some of Funkadelic's compositions. At issue are complaints about similarities between "Blurred Lines" and at least two songs.

According to the suit, a copy of which was obtained byThe Hollywood Reporter, "Plaintiffs, who have the utmost respect for and admiration of Marvin Gaye, Funkadelic and their musical legacies, reluctantly file this action in the face of multiple adverse claims from alleged successors in interest to those artists. Defendants continue to insist that plaintiffs' massively successful composition, 'Blurred Lines,' copies 'their' compositions."

The suit claims the Gaye family is alleging that "Blurred Lines" and Gaye's "Got to Give It Up" "feel" or "sound" the same, and that the "Gaye defendants are claiming ownership of an entire genre, as opposed to a specific work."

As for Funkadelic, there's said to be claimed similarity between Thicke's hit and Funakedlic's "Sexy Ways."

"But there are no similarities between plaintiffs' composition and those the claimants allege they own, other than commonplace musical elements," states the lawsuit. "Plaintiffs created a hit and did it without copying anyone else's composition."
Sure, the songs "feel" and "sound" similar, but that a violation of copyright not make. And really, if you're a fan of Robin Thicke, you know that man has been copying Marvin Gaye's groove for the longest now. Has no one heard "You're My Baby," or hell, most of the Something Else album? I gather the Gaye family just never gave that great a damn given none of those works have been successful as "Blurred Lines" has.
Although I get why Robin Thicke is suing, it still reads as silly though, no? Next thing you know R. Kelly is going to sue Trey Songz, and then Trey Songz will countersue with Aaron Hall. After that, Miley Cyrus will sue Black people.
Be the first to receive breaking news alerts and more stories like this by subscribing to our mailing list.