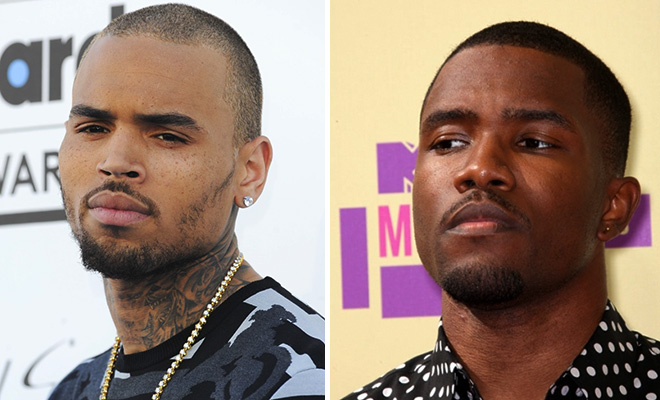 You might want to put Chris Brown on medical watch. In his world, the haters and all of their "negativity" have resulted in immeasurable amounts of stress that have spurred seizures. Well, news a lawsuit stemming from a fight with Frank Ocean can't help matters.
Frank isn't doing the actual suing, though, but his cousin sure is (via The Wrap):
In the suit, which was filed in Los Angeles Superior Court on Tuesday, Ocean's cousin Sha'keir M. Duarte alleges that an employee of Brown's — identified as "Hood" in the complaint, in which he's also named as a defendant — punched and kicked him, while Brown egged the employee on.

According to the complaint, Ocean and Duarte arrived at Westlake Recording Studios to find a Lamborghini was parked in a spot reserved for Ocean. The suit goes on to allege that, when Brown, Hood and two other individuals emerged from the studio, Ocean asked about the spot an the foursome "moved forward in a menacing manner."

After which, the suit claims, Hood "lunged and struck plaintiff with a punch to his face" as Brown yelled, "Get that N—er!"

Hood then "commenced to beat and kick [Duarte] about the head as he lay on the ground," the suit claims, adding that Hood and Brown kicked Duarte "at least … 12 times."

The suit goes on to claim that Brown told Duarte, "You just got your ass beat and its [sic] all on camera" after the alleged beating.

According to the complaint, the incident caused Duarte to suffer "great mental, physical, and nervous pain and suffering.. Plaintiff is informed and believes and thereon alleges that these injuries will result in some permanent disability to him."

Do you know what this all means in plain English? "Pay the man." That's the bottom line of this suit.
I would say I'd feel bad for Chris, but I'd be lying and that's not cool. Chris Brown should not have been fighting, especially given his probation status.
He can blame everyone else for his problems all he wants, but evidently, that's not doing him, his bank account or his lawyer any favors. Okay, maybe the lawyer since a check is a check, but you get what I'm saying.
Oh well, Christopher Maurice. Get yourself some therapy and some people actually dedicated to helping you realize your best self. I'm available. Call me.
Be the first to receive breaking news alerts and more stories like this by subscribing to our mailing list.