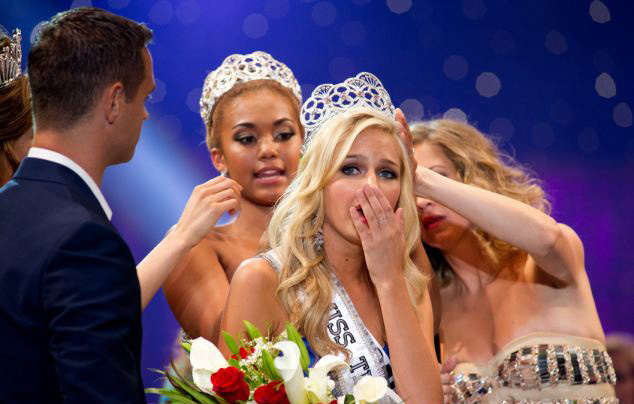 One of the major downsides to being in the public eye, is being a prime target for hackers. That's what Miss Teen USA 2013 winner, Cassidy Wolf, has learned the hard way.
The 19-year-old is claiming that four months before she was crowned the winner of the pageant, a stranger emailed her and alleged that they hacked into her computer's webcam and took private photos of her in her bedroom.
Wolf had been completely unaware of the eerie situation.
"I wasn't aware that somebody was watching me (on my webcam)," she told Today.com. "The light (on the camera) didn't even go on, so I had no idea."
She was also notified that someone from another state had attempted to log into her Facebook account, but she wasn't prepared for what would happen next.
The blonde beauty was later contacted via email by the alleged hacker, who attempted to blackmail her. According to Wolf, the mysterious e-mailer asked that she pay a sum of money in exchange for the photos not going public.
There is little else that is known about the case, since it's part of an ongoing investigation but wow! It's sick to think that pervy hackers are advanced enough to obtain access to someone's web cam. On the other hand, this could have been total B.S. that the blackmailing loser made up in order to frighten the beauty queen into turning over cash.
Be the first to receive breaking news alerts and more stories like this by subscribing to our mailing list.