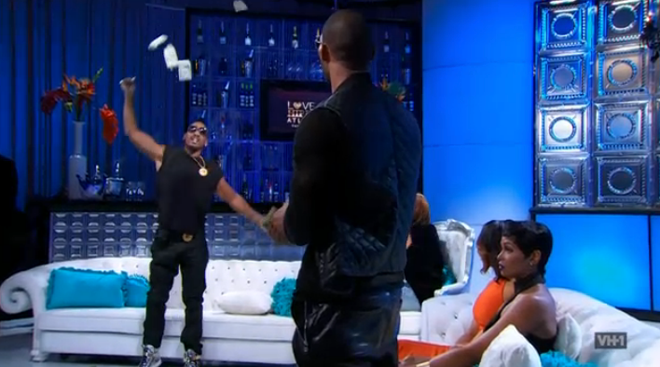 Stevie J might have deep, undying love for his one and only Joseline Hernandez, but he'll always have a soft spot for his baby mama Mimi. Even if it does irritate the heck out of her new boyfriends.
Nikko has been dubbed everything from a cheapskate to a knockoff Stevie J. And after Mimi basically went behind his back and sniggled with her ex about the (allegedly) fake Rolex he bought her, I thought it was safe to say that Nikko got knocked out of the game for good.
But nope, he's back for more. Mona Scott-Young invited Nikko onstage for a brief reunion with Mimi and her baby daddy Stevie J. He reiterated that the Rolex was real (we don't believe you, you need more people) and when Stevie asked him where he was bread was at, Nikko stood up and pulled out a wad of Monopoly money and said it was his Thursday money.
Then, in an epic finishing move, Stevie J made it rain all over Nikko's hideously bald head.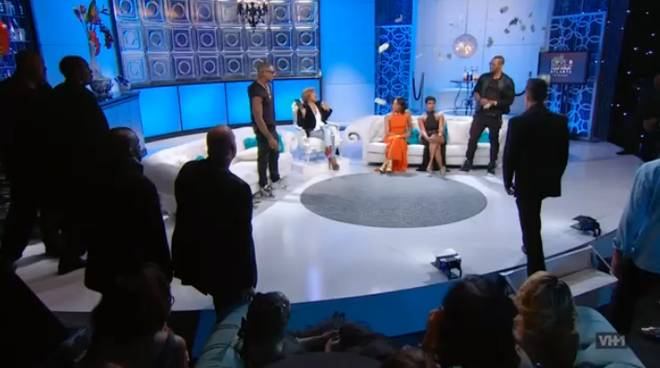 I believe this was the perfect example of "shittin' on 'em," as Nicki Minaj would say.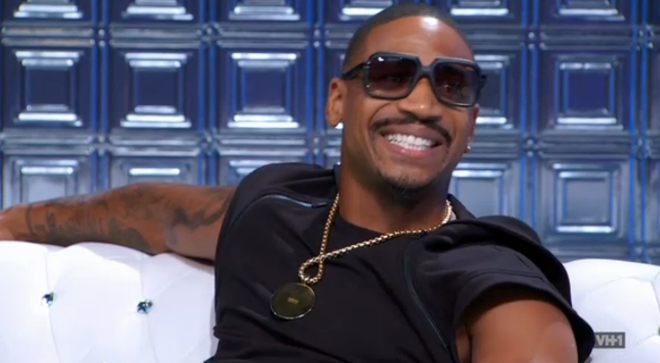 Well played, Sleaze-o.
After Stevie got done toying with him, Ariane took a few nibbles at Nikko too, calling him an opportunist and inauthentic. He copped to being an opportunist and Mimi seemed completely unbothered by the admission. I guess the lovin' is worth the headaches.
Rasheeda and Kirk Are Barely Friends, Definitely Not Partners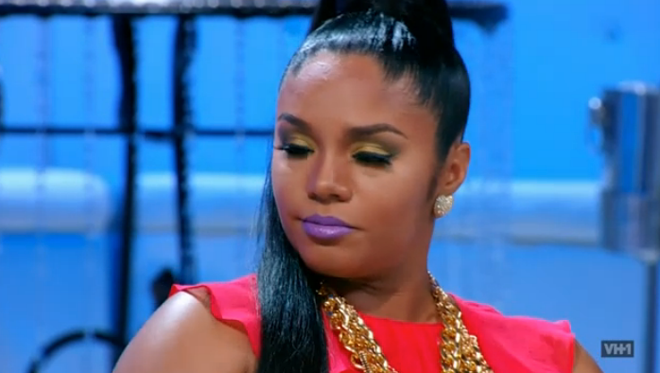 If you thought that the fight between Kirk and Rasheeda was just for play-play, they'll have you know that their split is very much real. Mona confronted the couple with this accusation and Rasheeda was quick to point out that she would she never put her kids through such a traumatic, messy situation like this if it weren't real.
Plus, she's pregnant. There's no way she wanted to bring new life into the world under these circumstances.
But Kirk, who claims he was neglected and suffering an identity crisis, threw it all away for a wild night out in the woods. Kirk repeatedly says he's sorry for his actions but he doesn't look like a man with any regrets and that alone is perhaps why Rasheeda is so unwilling to forgive.
When Mona asked Rasheeda and Kirk the status of their relationship, Rasheeda cooly labeled them as having a "lightweight friendship." Damn, homie.
Lies, Sex and Benzino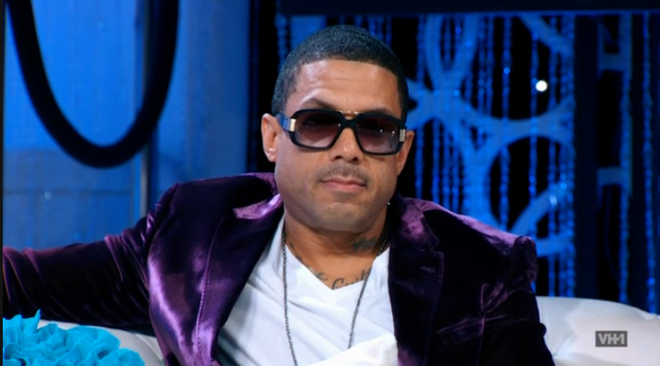 After busting up Kirk and Rasheeda's marriage, burning bridges with Stevie J and Joseline and booting Karlie Redd out of his bed more than once, Benzino is hanging on to his position as an LHHA castmate by a thread.
This season, he really put his foot in it in several ways. First off, he put it out there that his best friend's girl, Joseline, had sex with him. Then he tried to take it back once it spread like wildfire, then he doubled back and decided to make a song and video about Joseline smashing da homie (aka him) with a Joseline look-a-like in the video.
And Karlie Redd is the one that they call messy?
Benzino is lucky that Stevie J essentially let the whole video/diss song thing roll right off of his back. Maybe it's because he owes Benzino a solid or something. Cause old Stevie would've jumped on Zino and stomped him into the mud.
In all fairness, Benzino WAS rather apologetic during the reunion. He said he was sorry for the diss track and video and he took responsibility for leading Kirk astray on that wild night in the cabin.
While that's nice and all, nobody should ever trust a man with no neck.
K. Michelle Wishes Tearful Good-Bye to Atlanta Cast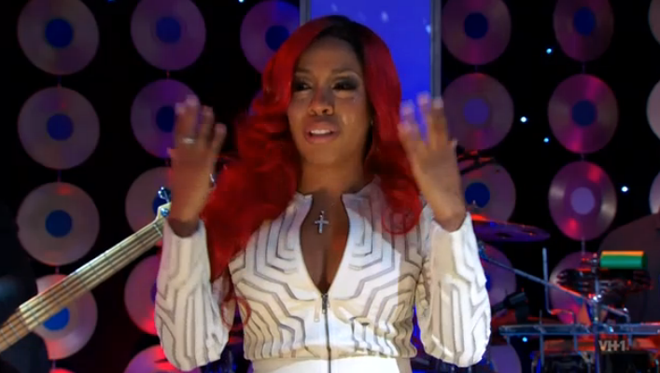 The rumors are true: K. Michelle is leaving "Love & Hip Hop Atlanta". But have no fear, her heart is still in reality TV. The Big Booty Judy herself will simply head over to the NY cast of the "Love & Hip Hop" franchise. She'll get to hang with Tahiry, Joe Budden and the gang.
But before she left ATL, she performed a showstopping rendition of her hit single "V.S.O.P." and tearfully wished her castmates and fans good-bye. She thanked them for putting with her "big mouth."
While K. might miss the ATL crew, something tells me the gang is gonna breathe a little easier without K. Michelle around to stir the pot or shake the table.
Be the first to receive breaking news alerts and more stories like this by subscribing to our mailing list.