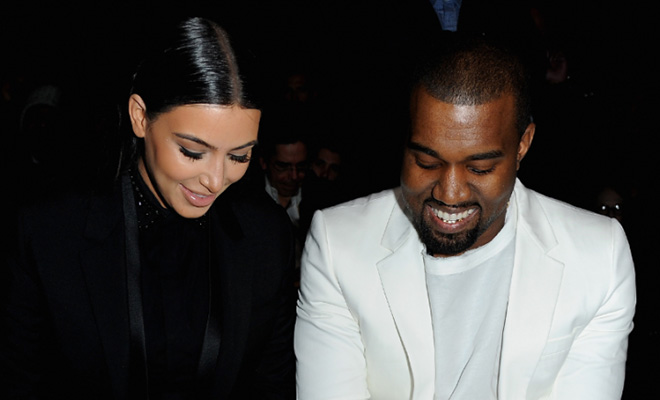 Could a Kimye wedding be on the horizon? Possibly, if a new report from US Weekly is to be believed.
According to the tabloid, in light of the birth of their daughter, Kim Kardashian and Kanye West are secretly planning a big, extravagant, over-the-top, superfluous (insert any word that's synonymous with "excessive") wedding to be held somewhere in Paris.
They've been discussing marriage for a while," a source tells Us Weekly of the pair. "A wedding is in the works."

It would be the third wedding for Kardashian but the very first for West — which means that her initial desire for a low-key, intimate affair (following her ill-fated $10 million 2011 nuptials to Kris Humphries) might go by the wayside.

"Kanye has never been married before and wants a big wedding," a Kardashian confidante says. "So Kim is getting used to the idea again!"

West, another insider says, "wants something really cool and big and over-the-top," although the event would not be televised.

One definite possibility? "They'll most likely have destination wedding," says the confidante, noting that a bash near West's Paris home is a contender.

However the affair shakes out, West's priority is making it official with the mother of his little girl. "He wants to get married more than she does!" says another pal.
Also, Radar Online is reporting that Kanye is busy trying to convince Anna Wintour over at Vogue Magazine that putting his baby mama and daughter on the cover of an upcoming issue is a good idea, but she isn't hearing any of it.
"It's no secret that Kanye is a huge fan of fashion, Vogue and especially Anna Wintour," a source close to the musician told RadarOnline.

"But it's also pretty well-known that Anna is NO fan of Kim or any reality star appearing in the pages of the magazine. Kanye is determined to make sure baby North isn't photographed by paparazzi then splashed across the world. He knows what he wants — a professional photographer and the cover of Vogue – nothing else. But clearly, trying to persuade Anna is going to be an uphill battle."

While West's response from Wintour has been "non-pulsed" and "less than enthusiastic," the Grammy-winning artist isn't taking no for an answer. He's compiled the latest magazine statistics that show reality stars on the covers of fashion publications – especially Kim – can make sales go through the roof.

"Kanye is convinced that he's going to make this happen," adds the source.
That damn Kanye. So determined.
Be the first to receive breaking news alerts and more stories like this by subscribing to our mailing list.