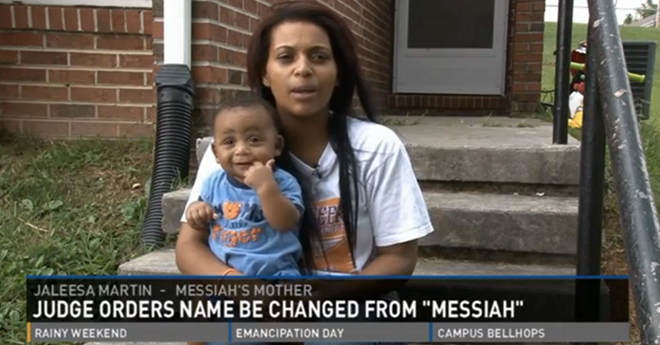 Judge and apparent Jesus freak, Lu Ann Ballew, tried the hell out of it by telling a Tennessee woman that she has to change the name of her seven-month-old baby because the name was only earned by a single person and "that one person is Jesus Christ."
Huffington Post has the word:
Child Support Magistrate Lu Ann Ballew ordered the name change last week, according to WBIR-TV (http://on.wbir.com/1cDOeTY). The boy's parents were in court because they could not agree on the child's last name, but when the judge heard the boy's first name, she ordered it changed, too.

"It could put him at odds with a lot of people and at this point he has had no choice in what his name is," Ballew said. It was the first time she ordered a first name change, the judge said. Messiah was No. 4 among the fastest-rising baby names in 2012, according to the Social Security Administration's annual list of popular baby names.

The judge in eastern Tennessee said the baby was to be named Martin DeShawn McCullough, which includes both parents' last names. The boy's mother, Jaleesa Martin, of Newport, said she will appeal. She says Messiah is unique and she liked how it sounded alongside the boy's two siblings – Micah and Mason.

"Everybody believes what they want so I think I should be able to name my child what I want to name him, not someone else," Martin said.

Ballew said the name Messiah could cause problems if the child grows up in Cocke County, which has a large Christian population.

"The word Messiah is a title and it's a title that has only been earned by one person and that one person is Jesus Christ," the judge said.
First of all, as a judge she is supposed to keep her religious beliefs outside of the courtroom and far away from the bench. To that end, she can go to hell for telling that woman she can't name her baby anything she damn well pleases.
Secondly, that mother will win her appeal and that kid's name will return to "Messiah." Third of all, if there's already a bunch of Messiah's walking around — including an ex-classmate of mine and T.I.'s kid.
What point does this judge think she's proving? And since we're being silly, what about the dudes walking around named "Jesus?" Does that judge want their names changed, too? Of course she does, which is why she ought to be placed in a traffic court where her kind of thinking is better suited.
For all that reaching she's doing, she should take her left hand, reach all the way across her body and smack herself silly on the right cheek.
Like, woman, get a life.
Be the first to receive breaking news alerts and more stories like this by subscribing to our mailing list.