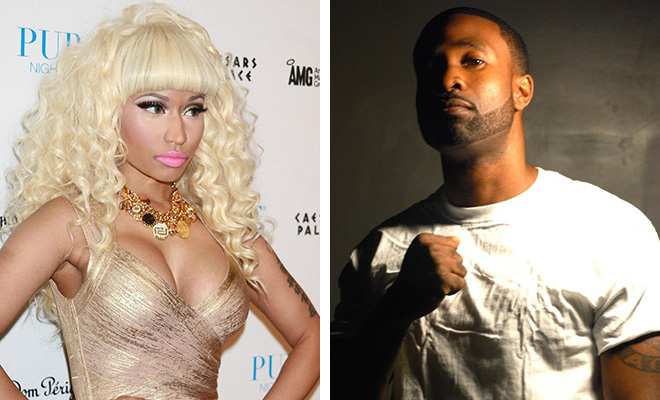 Nicki Minaj has fired back against claims that she acquired the services of another rapper to write lyrics for her, saying "I don't need no motherfucking ghostwriter!"
A rapper named Ransom, who used to work Nicki Minaj during her mixtape days before she got signed with YMCMB, recently released a new song called "Man Alone," and a line in the song says:
"Before Nicki was wearing those crazy wigs, I was doing verses for her, just hoping she made it big."
After the song was released, people took the line as him saying that he had ghostwritten some of Nicki's songs, which in the world of Hip Hop, is akin to an athlete being accused of using performance enhancing drugs.
So, basically, it's a HUGE no-no for a rapper to be accused of using the services of a ghostwriter. It's probably the absolute WORST thing you can say about a rapper.
TMZ caught up with Nicki Minaj and asked her about the song earlier this week, and she went ballistic over the rapper's alleged claims, saying that Ransom is a liar who is "fucking desperate."
"What? I rap better than him, who the fuck is he, crazy?" Nicki said. "Yo, I'm not even a man and niggas got my dick in their mouth. Are you serious?"
She continued, "I'm undisputed because I'm the only female rapper, that, day one, I don't need no motherfucking ghostwriter. So if you tellin' that lie, you must be real fucking desperate and you still ain't gonna pop. How 'bout that."
"How a wack nigga gonna write my shit?" she added.
Of course TMZ followed this up with an interview with Ransom himself, and the rapper has clarified what he meant in his lyrics, saying that the "beef" is a huge misunderstanding.
"What I meant was, she used to call me to get on her songs," Ransom told the website. "I meant that we did verses TOGETHER. I did verses for her records … I never wrote no songs for her."
Asked if he's seen the video of Nicki going off on him, he says he tried to but he cut it off midway because it was too "disrespectful."
Do you think Nicki was "disrespectful" for what she said?
Be the first to receive breaking news alerts and more stories like this by subscribing to our mailing list.