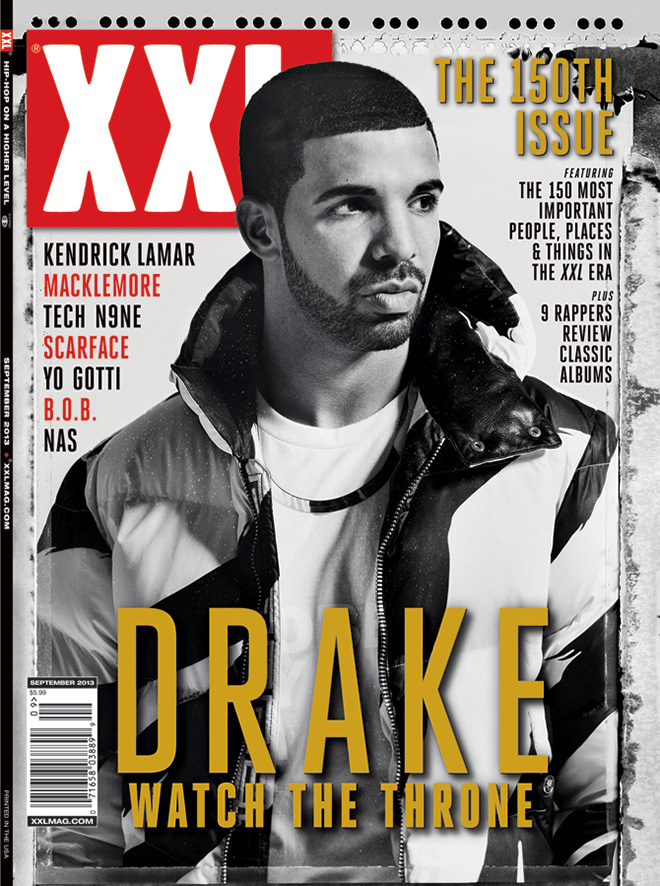 Drake is gracing the cover of the 150th issue of XXL magazine. Inside, Aubrey opened up about his new album, his public image, and competing with other rappers like Kanye West. Oh, and Jewish people are oh so proud of him.
Quotes courtesy of The YBF:
ON THE NEW ALBUM
I remember coming into this year thinking, 'How am I going to cut through all these people and shine?' I've never been part of a year when so many legends are dropping projects. How am I going to be seen? I'm going to be like the kid waving in the background in the photo with all of his tall relatives. And, I guess, those were my initial thoughts, and not to say that I haven't enjoyed some of the stuff that has come out this year, but it didn't pan out the way I thought it was going to. I think I am going for it, to really establish what are murmurs or things being said quietly, 'Um, I think that Drake might actually…' On September 17th I want people to be like, 'Oh, we were right.'
Well, that shouldn't be hard. Yeezus isn't beloved by all and the same can be said of Magna Carta Holy Grail. Meanwhile, Lil' Wayne is still more interested in skating and Future and 2 Chainz are fun, but not held in the same regard. Plus, anytime Drake drops a song it's on all of my damn social media feeds for weeks if not months. Congratulations in advance, Drake.
ON HIS IMAGE
Do I think that if I didn't have, for lack of a better term, a unique look about me, if I was from somewhere in America and if I hadn't been on a kids TV Show [Degrassi: The Next Generation], would I be as famous? I don't know, man. Honestly, I don't think so. I was just some young kid on a TV show. And I haven't become anything else while I've been in this position. It's not like I got here and was like, 'Oh, got to switch up my image.' I don't wake up nervous. I feel like maybe a lot of these guys do. How old are you, really? What is your background, really? What have you really done in the drug game, in the thug game?
Suburban rappers have been doing well since Will Smith. Same for ones that maintain a strong woman following ala LL Cool J. And really, the rap-singer thing has long been popularized by Ja Rule. So actually, Aubry, you're quite perfect for the times.
ON THE COMPETITION
It's tough for me. That's a guy I can't pretend not to like. He's the guy to me, in a lot of ways. That's Kanye West. But I'm also here to be the best. I'm here to surpass. I'm here to outdo. I'm ready for whatever with anybody.

ON HIS SUCCESS
I get Jewish people coming up to me proud like, 'Mazel Tov, bro. Come to my house for Shabbat dinner.'

AMANDA BYNES
I don't even know who that is doing that or what that's about. If that is her, I guess it's a little weird and disturbing. It's obviously a behavioral pattern that is way bigger than me. Whoever is behind it, whether it's her or somebody else, they know people are paying attention so they keep it going.
He handled this well.
Be the first to receive breaking news alerts and more stories like this by subscribing to our mailing list.