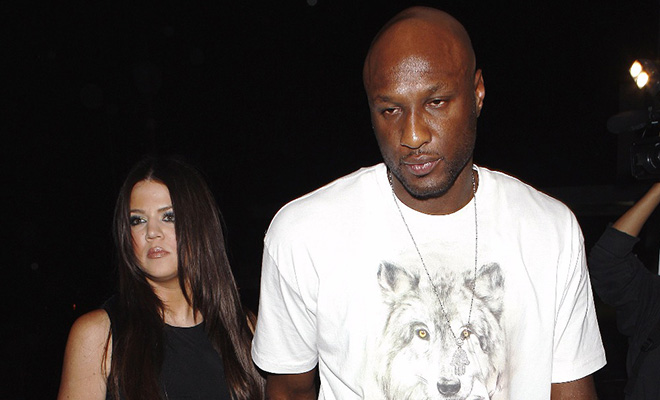 Less than a month ago, a woman came out declaring that she and Lamar Odom had an affair. Now, there's another woman out with a similar claim, telling tabloid magazine Star that she had a six-week affair with Khloe Kardashian's husband. Mind you, there have been others in the last year or so, too.
All I can think is poor, poor Khloe. Even if this isn't true, it's still embarrassing to have to keep dealing with this.
But you know, it's beginning to appear true. There's only so many times you can say a person is lying about something like this. Lamar is starting to give teases of Tiger-Tiger Woods, y'all.
Now that I think about it, Lamar's ex and the mother of his kids has been pretty clear with her condemnation of his character and his lack of presence in the lives of the children they have together.
In the meantime, Radar Online reports:
Gorgeous brunette lawyer Polina Polonsky tells the magazine, on newsstands Wednesday, that she had a six-week affair with Lamar, 33, earlier this summer.

What's more, RadarOnline.com has learned she even passed a polygraph test regarding the claims! Polina alleges that she and Lamar first met on June 2 at L.A.'s Roosevelt Hotel and according to her, the NBA star had been living at the plush hotel for a week, at that point, as his marriage struggled.

"I was under the impression that he had left Khloe, and that's why he was living at the Roosevelt," she explains. "He acted completely available and we definitely had a mutual attraction."

Their flirtation escalated during meetups at the Roosevelt over the next week, and by June 9, they had their first kiss. On June 13, they consummated their relationship at Polina's apartment, she claimed.

"After we had sex, Lamar stayed the night with me," Polina told Star. "The next day we went back to the Roosevelt. I stayed there with him for the next couple of nights."

It wasn't long, Polina says, until Khloe found out. And she was not happy.

On June 21, while Polina was at her apartment, Khloe and her momager Kris Jenner allegedly stormed the Roosevelt to confront Lamar and his lover!

According to Polina, Lamar told her that, while looking for him, Khloe and Kris banged on the door of the wrong room. When there was no answer, she claims, outraged Khloe even broke the door in!
Ahh man, homie. Be strong, Khloe.
Be the first to receive breaking news alerts and more stories like this by subscribing to our mailing list.