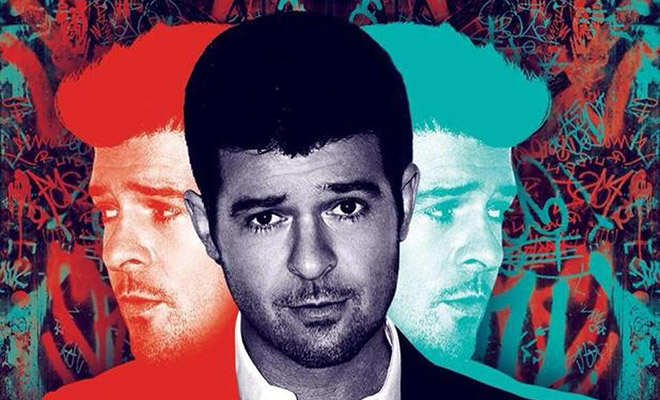 Last February, Robin Thicke was arrested in New York City for marijuana possession, and the singer recently opened up about his pot habit in a new interview with Britain's The Sun, where he revealed that he has dropped AT LEAST $500,000 on the sticky icky stuff, which he called his "crutch," or his "muse."
"I do smoke. I do everything I'm not supposed to do. Weed is my crutch, my muse, the lesser of all evil. I've spent a good $500,000 on pot. I've tried to quit smoking. I've quit everything once. My buddy runs a store, I can get medical marijuana. When I'm at home, I'm a non-stop chimney."
I can see it. Robin Thicke toking it up, enjoying the fruits of his labor.
Not only does he have the #1 single in the country right now, with the Pharrell Williams-produced and T.I.-featured "Blurred Lines," but Thicke's recently released sixth studio album of the same name also debuted at #1 on the Billboard 200 chart for albums. With that news, he's probably smoking a joint right now as you read this.
But half a million dollars though? I hope that's over a lifetime, and not just a period of a couple of years, because that sure is a hell of a lot of weed!
Be the first to receive breaking news alerts and more stories like this by subscribing to our mailing list.