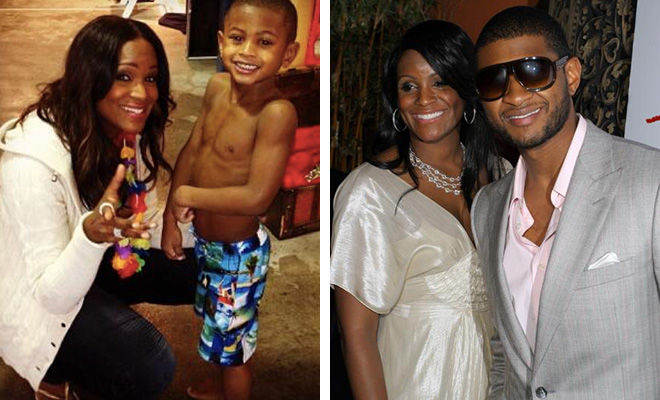 I don't want to get particularly snarky about this story or sound one-sided. I can only imagine the pain Tameka Raymond is going through after losing a son to a tragic water-related accident and almost losing another not long after.
And to be fair to her, she has made complaints about the very person who was in charge of the children she shares with Usher beforehand. But regardless of how the judge rules on this matter, I hope both Usher and Tameka can co-parent and share custody. That would be best for the children.
In the meantime, here's what CBS News has to say about Tameka Raymond being granted an emergency custody hearing in light of her five-year-old son, Usher Raymond V (aka "Cinco"), nearly drowning after his hand got stuck in the underwater drain of a pool:
In the motion for the emergency hearing filed on Tuesday, Foster claims Usher has "failed to personally exercise physical custody of the minor children" and utilizes "third-party caregivers…rather than personally exercising parenting time" and alleges that Usher isn't home "85 percent" of the time. She also calls the Monday incident a "near-death" accident, and claims that their son was "left unsupervised in a swimming pool" at Usher's Atlanta home.

According to a police incident report obtained by ET, Usher V was swimming and playing around the pool under the supervision of his aunt, Rena Oden, when he fell to the bottom of the pool and subsequently became stuck in the drain. Attempts by Oden and the housekeeper to remove him were unsuccessful, but luckily a pair of subcontractors — Benjamin Crews and Eugene Stachurski — working on a sound system in the house were able to pull the boy from the pool and revive him with CPR.

The incident comes just one year after another water-related tragedy for Foster, whose son Kile Glover died after being hit by a jet ski.

The emergency hearing on custody has been scheduled for Friday at 2 p.m. before Fulton County Superior Court Judge John Goger.

Usher was married to Foster for less than two years and filed for divorce in June 2009.
And for the record, Tameka was already in the process of trying to alter the current custody ruling and this accident happened during the process. Best of luck to both of them. And stop sending Tameka and Usher vile tweets. Y'all going to hell…hopefully.
Be the first to receive breaking news alerts and more stories like this by subscribing to our mailing list.