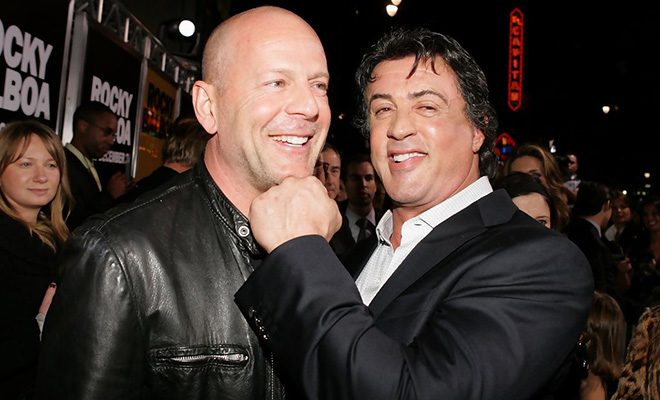 Bruce Willis has always been rumored to be a d-bag but we can honestly say no one saw this one coming!
It all started when fellow actor Sylvester Stallone announced via Twitter that Willis would not be returning for "Expendables 3" and that Harrison Ford would be stepping in.
WILLIS OUT… HARRISON FORD IN !!!! GREAT NEWS !!!!! Been waiting years for this!!!!

— Sylvester Stallone (@TheSlyStallone) August 6, 2013
We're not sure what's worse, the fact that there's an "Expendables 3" or the fact that Harrison Ford doesn't realize it's beneath him. Ford joins Jackie Chan, Milla Jovovich, and Wesley Snipes, who have all signed on to the action flick.
But that wasn't the best part. Stallone then tweeted an insult that was in no way directed at Willis, expect that it totally was. We know this because who else would he be talking about? Also, Huff Post entertainment confirmed, via the "Rocky" star's rep, that Willis was in fact the target of the post.
GREEDY AND LAZY …… A SURE FORMULA FOR CAREER FAILURE

— Sylvester Stallone (@TheSlyStallone) August 6, 2013
Perhaps Willis demanded a huge chunk of money to appear in the film and the studio had the balls to refuse. He had a supporting role in the first two "Expendables" films, which also featured notable actions stars like Arnold Schwarzenegger and Jason Statham.
The "Red 2" star recently caught some bad press after he treated a British journalist like absolute shit.
Be the first to receive breaking news alerts and more stories like this by subscribing to our mailing list.