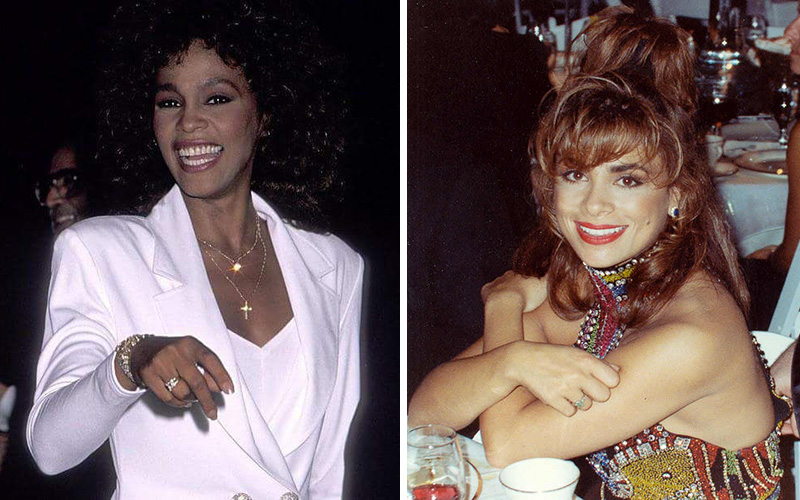 Whitney Houston was known for her voice, but she was also known for something else: Her hilariously shady comments!
Whitney was hella talented, but she was also hella funny. Remember when she went all the way AWF on Wendy Williams back in 2003? The entire 24-minute interview was full of gems, but one moment stood out more than the rest.
At one point in the "discussion," Whitney basically told ole girl to "cash [her] ousside" and called Wendy out for her looks. Whitney's words exactly: "If this were back in the day in Newark, I'd meet you outside" and "I'm sure when you look at yourself in the mirror you have some reservations about your look, too … I've seen you! I KNOW how you look!"
And we can't forget that Diane Sawyer interview when, in response to allegations that she was a drug abuser, particularly of the crack cocaine variety, she got homegirl all the way together. "First of all, let's get one thing straight," she said while grabbing a mug of tea. "Crack is cheap. I've made too much money to ever smoke crack. We don't do crack. We don't do that. Crack is wack!"
Responding to rumors and tabloid headlines that she spent $730,000 on her drug habit, she then uttered the now iconic words, which we use in the blogs and on social media all the time to prove whether or not something is real: "I WANNA SEE THE RECEIPTS!"
So, yeah, Whitney Houston was a trip. This we know. But what we didn't know was the stuff she said behind closed doors. And in the trailer for her upcoming documentary "Whitney," we get to see a ton of behind the scenes footage, including a moment where she shades the fawk out of Paula Abdul, who was her industry rival at the time.
Whitney was sitting down with her mother, Cissy Houston, and was talking about the perils of fame when she brought Paula Abdul into the discussion. "Now, one thing, Paula Abdul ain't sh*t," Houston said. "That girl is singing off-key on the record."
When I saw that trailer for the first time, that one line took me OWT, I tell you, and I will definitely be going to the theaters to see the documentary when it is released on July 6th.
The film, directed by Kevin Macdonald promises to showcase an "unprecedented, unflinching and honest" portrait of the late singer and it features interviews with many of her close friends and family members who were ready to spill all kinds of Whitney tea on camera.
But all of it isn't full of laughs. One heartbreaking revelation from Whitney's past was that she was sexually abused by her older cousin, Dianne Warwick's sister Dee Dee Warwick.
Whitney's longtime assistant Mary Jones claims that being molested by her older cousin made Whitney question her own sexuality and contributed to her problems with alcohol and drug abuse, though Whitney never spoke publicly about her own alleged drug abuse.
Jones says in the documentary, "I think she was ashamed… she used to say, 'I wonder if I did something to make [Dee Dee] think I wanted her.' I said, 'Stop. A predator is a predator is a predator.' If Cissy had known, she would have done something about it, because Cissy loves her children.'"
"We always wanted our film to be a corrective to that tabloid story," said producer Simon Chinn. "These are specific revelations that I think will get people to a deeper understanding of who Whitney was and in many ways redeem her as a person."
Be the first to receive breaking news alerts and more stories like this by subscribing to our mailing list.