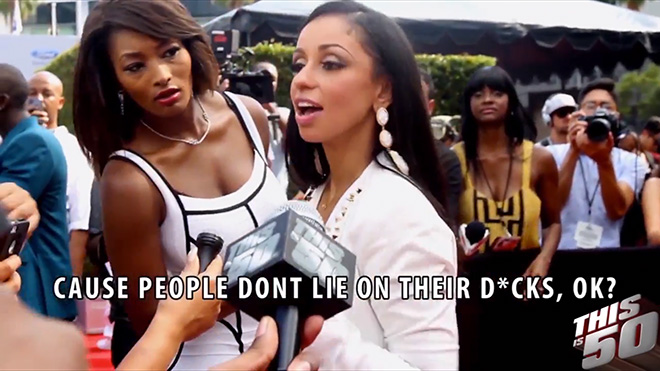 Years ago, 50 Cent said he slept with Mya on a diss track aimed at The Game. Well, during the BET Awards, ThisIs50.com tried to reach out to Mya on the red carpet to do a drop for the site. Once she realized that "ThisIs50" was Fiddy's website, it went left quickly.
Rhymes With Snitch says that after Mya was asked to do a drop for the site, Mya went, "This is for 50 Cent? Oh. No. No. No. We can't do that. He dissed me and I don't support that." Mya was then told that 50 Cent was "only bullsh*tting." You don't say, sir. You don't say.
Mya still wasn't having it though, telling him, "He needs to say that to the public, cause people don't lie on their dicks, OK?"
Aww, Mya's shade is like whoa, too. I can't say that I blame her. For someone who's long battled rumors of being an industry whore, no one should expect her to be friendly towards a better who helped perpetuate that nasty rumor about her.
50 ain't shit, ain't ever been shit and won't ever be shit. Unfortunately, he's still rich as shit so I guess it doesn't matter.
Womp.
Watch Mya throw her shade to small change below:
Yes, fellas. Don't lie on your dicks.
[HT: RWS]
Be the first to receive breaking news alerts and more stories like this by subscribing to our mailing list.