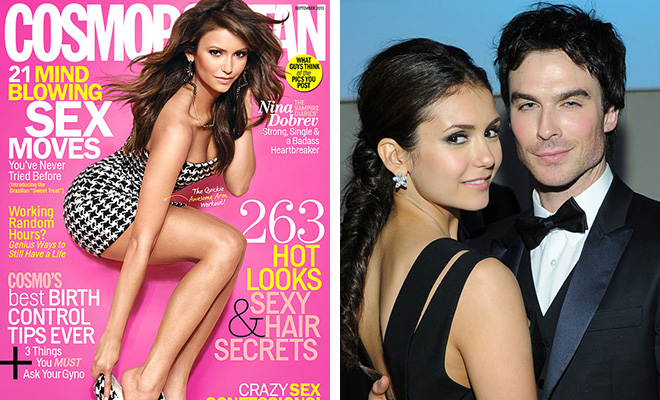 Nina Dobrev's split from her boyfriend and "Vampire Diaries" co-star Ian Somerhalder came as a shock to many. The is largely due to the fact that the pair has intense on-screen chemistry that could melt glaciers. But Dobrev doesn't seem to be wallowing over the end of her romance.
In a new interview with Cosmopolitan, the 24-year-old actress opens up about her ambitions and friendships, without going into detail about her relationship with Somerhalder.
The Bulgarian-born beauty, who's a devoted yogi, shared her dreams of opening a yoga studio and how planning for the business venture has made her stronger.
"I want to open my own yoga studio," she said. "Planning construction and looking at properties is fun. I'm using a different part of my brain. You know that feeling when you use a different muscle? You're excited to be exercising it but you get a little sore! Yoga changed my life. Hopefully, it will do that for others."
Though her ex wasn't discussed, Dobrev did disclose what draws her to a man.
"You either have chemistry or you don't, but a lot of what attracts me is a guy's mind and humor and talent," she said. "I need to get to know all those things before I fall for someone. I'm not a one-night-stand kind of girl. I'm a relationship girl."
The actress also touched on her friendship with Julianne Hough, shooting down the assumption that they became close following the end of their relationships.
"That's not what our friendship is about. Unfortunately, that's how it's perceived, but there's more to us. People aren't defined by their relationships. The whole point is being true to yourself and not losing yourself in relationships, whether romances or friendships."
Though Dobrev has always seemed like a kick-butt gal, one can't help but wonder how she's handling being around her ex on the set of "The Vampire Diaries," because no matter how cool a chick you are, filming steamy scenes with your onetime lover has got to be daunting.
The pair, who portray vampires Damon and ELena on the hit CW series, began dating in 2010 and reportedly split in May.
Be the first to receive breaking news alerts and more stories like this by subscribing to our mailing list.