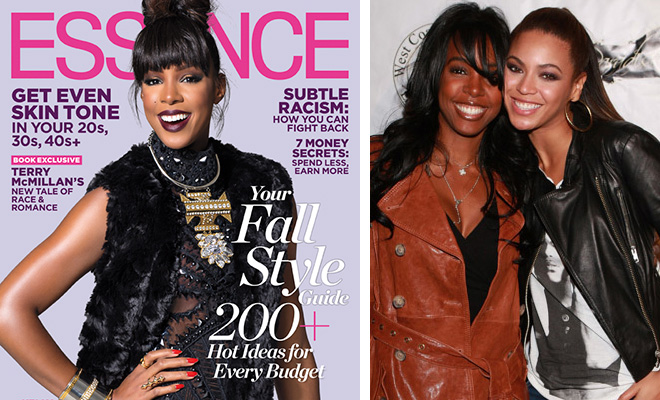 A lot of people have misconstrued the lyrics of the Kelly Rowland track "Dirty Laundry." The song was about an abusive relationship, not whether or not Kelly was seething with jealously over being the Mary Wilson to Beyoncé's Jigging Jesus Diana Ross.
She's making it even clearer now in her ESSENCE cover story, in which Kelly opens up about her past bouts with unhappiness, but makes it clear that her Destiny's Child band mate was not the source of it.
Kelly explains:
"For a long time I wasn't happy, but that had nothing to do with Beyoncé. That had to do with me trying to get my life in order and make better decisions for myself. I'm seeing all these wonderful things happen for her and I am happy for her. But I want a path. I want things to pop off for me, too. Not on her level but whatever my level is supposed to be."
This is a thoughtful, nuanced statement that stupid people predisposed to interpreting everything with a catty connotation will ignore in favor of their own preconceived notions about their relationship. I get it, though. Kelly was happy for her girl's success, but was trying to figure out where hers was.
Good thing she's enjoying it now. And frankly, at least she's aware that everyone isn't meant to be Beyoncé. Good for her because the Kelly Rowland life looks good in 2013. Now go buy Talk A Good Game.
Be the first to receive breaking news alerts and more stories like this by subscribing to our mailing list.