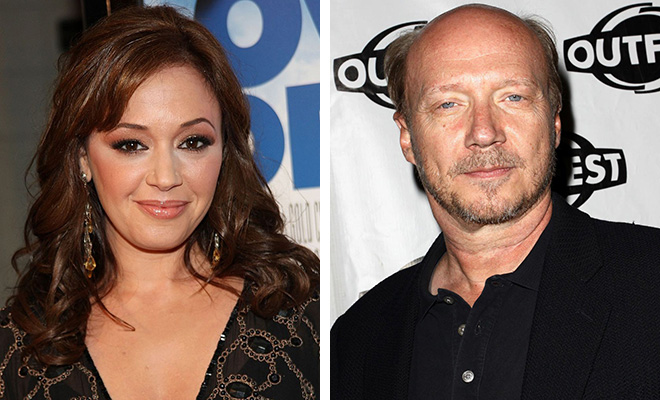 Actress Leah Remini's decision to leave Scientology has gotten a great deal of attention because: 1.) Pretty much anything having to do with Scientology gets a great deal of attention, and 2.) A high profile celeb coming out against it is a pretty big deal.
Now, writer/director Paul Haggis — who famously walked away from Scientology in 2009 — is defending the "King of Queens" star in an open letter published on the Hollywood Reporter's website.
"Leah and I were always friendly but never close friends," the Oscar-winner wrote. "Despite this, she called me as soon as she heard about my letter of resignation. Unlike the rest of my former friends, she expressed real sadness that I was leaving and concern for me and my family."
Haggis also shared his own unfavorable experiences with the church and noted that Remini has been ostracized by some of her former friends who still belong to the religion: "Having witnessed Scientology's smear tactics, I can imagine how this was being orchestrated, but I was still shocked to see how quickly those friends — some of whom had known Leah for 20 or 30 years — jumped on the 'malign Leah' campaign, and with such apparent glee."
Leah Remini, who was once a staunch supporter of the controversial church, recently revealed that she has had it with the church imposing on her life and that of her family's.
According to reports, Remini became suspicious of Scientology's leader David Miscavige and the fact that his wife has been missing for years. And earlier this month, the New York Post reported that the actress was subjected to "years of 'interrogations' and 'thought modifications" for questioning the church.
"We stand united, my family and I, and I think that says a lot about who we are and what we're about," Remini told PEOPLE, explaining she and her family's decision for leaving the Church of Scientology. "I believe that people should be able to question things. I believe that people should value family and friendships and hold those things sacrosanct. … No one is going to tell me how I need to think, no one is going to tell me who I can and cannot talk to."
Be the first to receive breaking news alerts and more stories like this by subscribing to our mailing list.