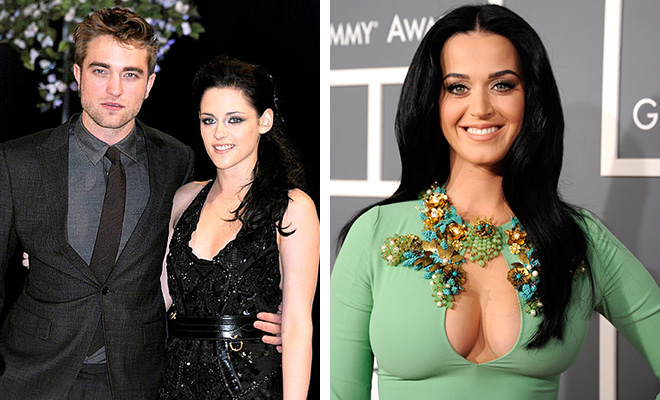 Since Robert Pattinson and Kristen Stewart starred in a little film called "Twilight" in 2008, rumors surrounding their off-screen relationship have been relentless.
Most recently, Pop singer Katy Perry was linked to Pattinson after he split from Stewart in May, and the singer has chosen to set the record straight.
In an interview with Elle UK, the curvaceous star, who is good friends with Stewart, claims that she reached out to the the 23-year-old and denied she was getting cozy with Pattinson.
"I sent her a text message saying: 'I know you've seen all this stuff but you know I would never disrespect you. I'm not that person,'" Perry said. "I'm just trying to be a friend to him but it is unfortunate that I do have a set of tits.'"
It's somewhat odd that Perry would be so open about something that really isn't anyone's business but the Grammy winner isn't usually shy when sharing the details of her personal life.
Stewart and Pattinson, on the other hand, are notoriously private. The two reportedly began dating in 2009 but refused to discuss their romance publicly. By May 2012, their were various photos and videos that served as proof they were dating, but the couple still had yet to acknowledge they were together.
It was somewhat refreshing that the pair didn't exploit their personal lives to sell the "Twilight" films. Yet their highly sought after romance came to a scandalous end last July when Stewart was caught getting cozy with her "Snow White and the Huntsman" director Rupert Sanders.
Ironically, the highly publicized incident led Stewart to admit to her relationship with Pattinson.
"I'm deeply sorry for the hurt and embarrassment I've caused to those close to me and everyone this has affected. This momentary indiscretion has jeopardized the most important thing in my life, the person I love and respect the most, Rob. I love him, I love him, I'm so sorry," Stewart said in a statement to PEOPLE.
The two reconciled a few months later but this past May, they split once again.
Be the first to receive breaking news alerts and more stories like this by subscribing to our mailing list.