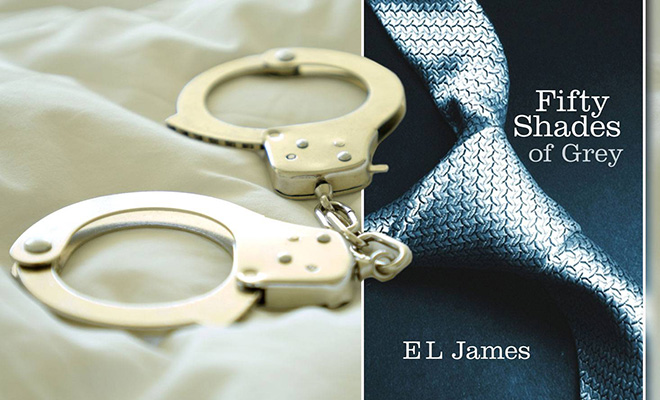 Within the last year or two, "Fifty Shades of Grey" has become a literary sensation. There have been all kinds of crazy stories about surges in sex toy purchases and rope sales, and though such reports have died down over the last few months, it seems that the book is still having a tremendous affect on people's sex lives, in the U.K. at least.
According to the UK's Daily Mail, there have been dozens of incidents in which people have found themselves trapped in handcuffs and were forced to seek emergency assistance.
Officer Dave Brown was quoted by the outlet as saying, "I don't know whether it's the Fifty Shades effect, but the number of incidents involving items like handcuffs seems to have gone up. I'm sure most people will be fifty shades of red by the time our crews arrive to free them." Funny, officer Brown.
Written by E.L. James, "Fifty Shades of Grey" famously started out as "Twilight" fan fiction. It follows the steamy relationship between a naive 21-year-old, Anastasia, and a 27-year-old billionaire named Christian, who enjoys S&M. Throughout the book and it's sequels, "Fifty Shades Darker" and "Fifty Shades Freed" the two experiment with a variety of restraints, such as rope and handcuffs.
Of course, this doesn't mean that the book actually had anything to do with any of this. In fact, it wouldn't be unreasonable to assume that "Fifty Shades" has been getting a bit more attention lately because the cast of the film adaptation of the raunchy tale is about to be revealed.
Though no announcement date has been mentioned, Sony Pictures is slated to release the film next summer, meaning that they better find actors to take on the roles of Christian and Anastasia soon.
Last week, it was reported that Garret Hedlund turned down the role of Christian, meaning that actors have been approached and it's only a matter of time before the roles are cast.
Be the first to receive breaking news alerts and more stories like this by subscribing to our mailing list.