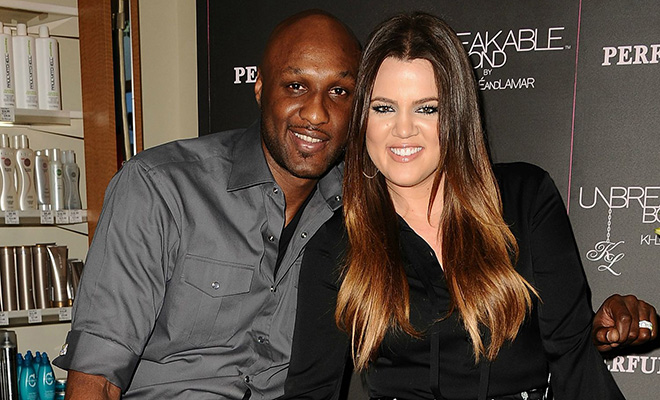 Rumors that Lamar Odom has been engaging in affairs with women behind Khloe Kardashian's back have been in full force recently.
Reports have surfaced that since one of Odom's mistresses has come froward, Khloe is determined to save her marriage. But while the reality star has allegedly forgiven her husband, she's not tolerating his alleged woman on the side, who is believed to be named Jennifer Richardson.
According to In Touch and Life and Style (via Celebitchy), the two became involved in a confrontation back in January when Kardashian spotted Richardson at a Los Angeles Clippers game.
"Khloe told her, 'How dare you come here?' It was like Khloe wanted to take control of her marriage. It freaked Jen out – and Lamar even more."
The incident reportedly prompted the "Keeping Up with the Kardashians" sensation to ban Odom from sleeping in the same bed as her.
In an exclusive interview with Star Magazine, Richardson revealed that she and the basketball star began their year-long affair in January 2012.
Richardson said the pair would engage in passionate trysts while Odom was traveling with his team. She also claims that he slept with her right before flying home to L.A. to be with his wife during Christmas.
"He had sex with me on Christmas Eve, before he flew back to L.A. to spend Christmas with Khloe. It was tough when he had to leave. He was really sad," Richardson said. "Lamar gave me a kiss and told me he loved me before we parted ways. He told me on many occasions that he loved me. And I honestly felt the same way."
According to Radar Online, Odom dodged allegations of an affair with Richardson by painting her as an attention-seeking NBA groupie.
If there's any truth to this story, it wouldn't be surprising if Odom were dismissing the woman as a liar in an effort to preserve his marriage. That being said, unless this alleged mistress lady has proof, her claims aren't going to have much weight.
Be the first to receive breaking news alerts and more stories like this by subscribing to our mailing list.