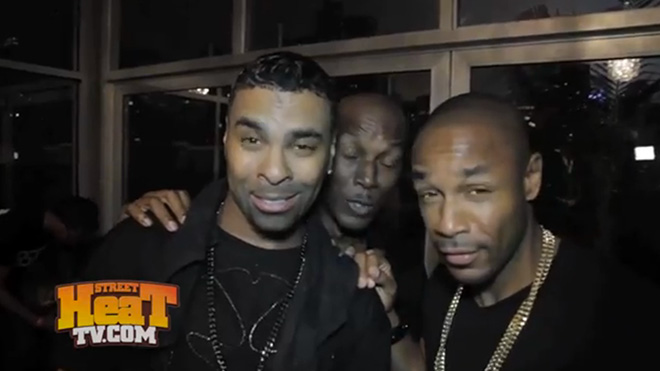 R&B singer Ginuwine raised more than a few eyebrows earlier this week after he was seen acting strangely during a live TV performance with fellow singers Tyrese and Tank, who are all three collectively known as TGT.
As the group was singing their slow-jamming new single "I Need," (Tank was in the background on the keyboard and Tyrese and Ginuwine were up front singing the lead) Ginuwine appeared to look very fidgety, shifting around nervously in his seat and blinking his eyes as if he's trying to force them to stay open.
From the outside looking in, it looked as though he was tweaking something serious, but Ginuwine wants everyone to know that he was NOT on drugs.
In a hilarious interview with Street Heat TV later that day, Ginuwine explained himself. "It was six o'clock in the morning… I popped something, but it wasn't no damn molly," he said. "I popped a 5-hour energy drink, and I didn't think it would do that to me."
And just in case you were wondering, yes, Tyrese was mad as hell for real, but the trio all laughed about it later on Twitter:
"Obviously I need eye drops lololol," Ginuwine wrote. "Ohhhh wweeee lololol…I need to take two more since I'm poppn now lololololololol what insanity…I'm going to always perform in the morning so I can blink blink blink blink blink…Sometimes you gotta laugh at yourself own it just to let yah know tho thts never been in my life so form what ever opinion u hav GROWN."

Tank said, "I think we should rehearse fellas!.. @tyrese lip balm and @ginuwine less oooweee!!.. Lmao!…@Tyrese u r a horrible wing man!! U lead only singing muthufu…lol. Where were my backgrounds ni–a?! @Ginuwine dam homie!..@Tyrese @Ginuwine I'm sick of this shit! I need Keith Washington and Christopher Williams to replace these ni–as!!"

Of course Tyrese had to get in on it, too, and tweeted, "Fellas ya'll gotta get it together…. My performance was great… Please guys… Lol @TheRealTank @Ginuwine lets get u some eye drops!"
TGT's debut album "Three Kings" drops August 20th.
[HT: E! Online]
Be the first to receive breaking news alerts and more stories like this by subscribing to our mailing list.