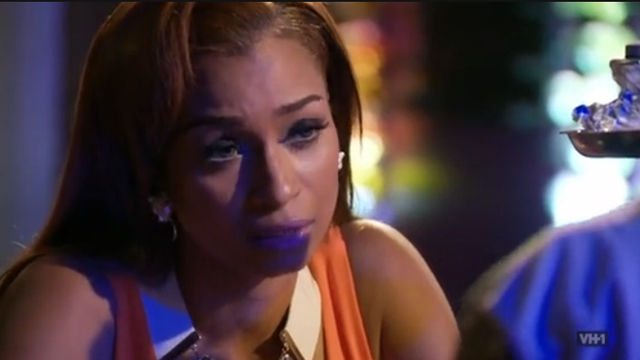 If you looked up the word cold-blooded reptile, you would find Karlie Redd's snarled little face in the dictionary right next to the definition.
While that might sound harsh, how else would you explain all of that slithering she does on her belly? That's what snakes do.
After blasting Benzino as a bum and a cheat, Karlie Redd shamelessly comes crawling back to the man with no neck begging for a handout.
What has prompted Karlie's sudden change of heart? Her freakin' breast implants are leaking and she wants Benzino to sponsor her. This bitch must be delusional. Does she think Benzino is really stacking paper trying to unload his wack-ass black version of US Weekly?
She needs to be calling up Sister Mona Scott-Young for a payday loan.
"I went to the doctor and the doctor was saying my breast was leaking," Karlie said with all of the seriousness of someone who was just told she was diagnosed with terminal breast cancer.
Benzino makes a joke about her needing to take her implants in for a "tune-up" but Karlie insists on the seriousness of the discussion. Benzino smells an opportunity to bust it wide open with Karlie Redd again, so he agrees to lend her a helping hand, even though he chokes on the price point of $4,000-$10,000 that she drops.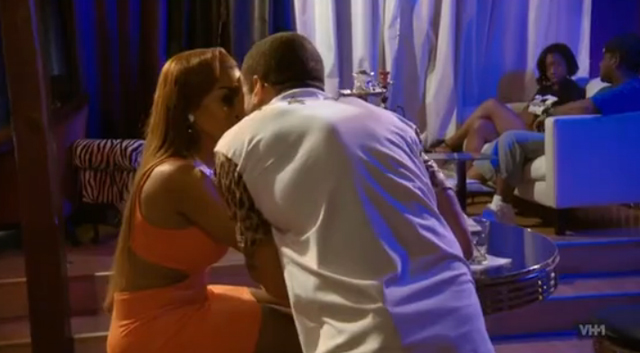 He gets Karlie to agree to be "nice" to him, which pretty much means she's gonna be sucking the high-yellow midget off for a good while. She better get that down payment started quick.
You know, between Karlie Redd and Mimi, it's hard to say which bird is the most shameless pigeon of them all. But I have to say, Karlie Redd's beak might just have pulled ahead with this tragic stunt. She gon' call Benzino to fix her leaky titties like he's a damn plumber. She would've been better off calling Super Mario.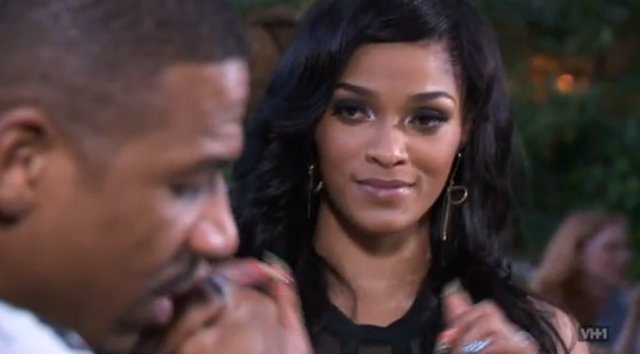 Joseline and Stevie Kissing in a Tree
Joseline Hernandez is the opposite of a good girl gone bad. She's a mala puta tigress turned kitty cat. Using his magic stick, Stevie J has successfully dickmatized Joseline like no other and now, he's got the Puerto Rican Princess going goo-goo ga-ga for him. She's even PROPOSING to his conniving ass.
It all starts with Joseline "surprising" Stevie with plane tickets to Puerto Rican and cold hard cash for her music video. Now I know Stevie said that Joseline would be going the independent route, but what the hell is the point of signing with a manager when you've gotta fork over "half" of the budget for your own music videos?
She stay losin'.
When Joseline and Stevie actually arrive in Puerto Rico, which looks like heavenly paradise, Joseline immediately tailspins as the painful memories of her broken childhood haunt her. She weeps about her drug addicted mother, her poverty and her rape, all of which she suffered before the tender age of 7 on the island.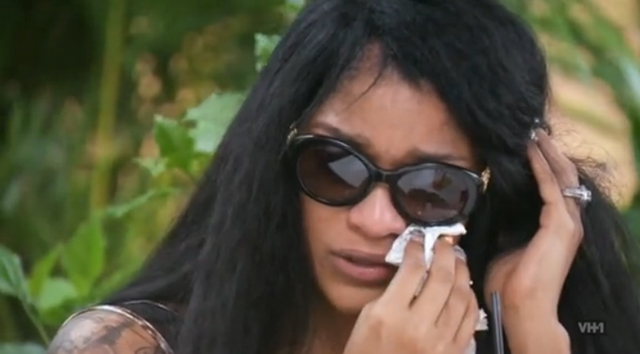 Stevie, being the insensitive piece of shit that he is, doesn't really know how to process Joseline's grief, so he just grins and tries to make the conversation about himself.
It's clear that Joseline's hurting and is seeking therapeutic relief, but this ain't OWN and Stevie J ain't Iyanla Vanzant and he can't fix her life. Maybe she can pencil in some time with Iyanla in time for season 3.
Eventually, Joseline pulls herself out of the dumps and gets ready to do what she came to do: Twerk.
Joseline heads to Fajardo to shoot scenes of the video for her song "Shotz." Basically she gets to pose in a really teeny, tiny bikini while she soaks her wet 'n' wavy in the sea water of Puerto Rico.
Think Beyonce on a ratchet budget with styling by Hustler.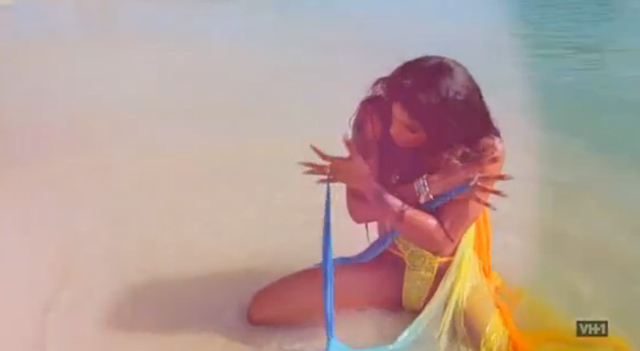 The music sounds…about as tolerable as J.Lo's. Which isn't really a compliment or a diss. It just is.
But after work is over, it's time for play.
In the best ad I've ever seen for Victoria's Secret, Joseline stands with her centaur booty poking out on the balcony in nothing but her bra and panties. It might be artificially enhanced, but there's no denying the perfection of Joseline's glorious curves.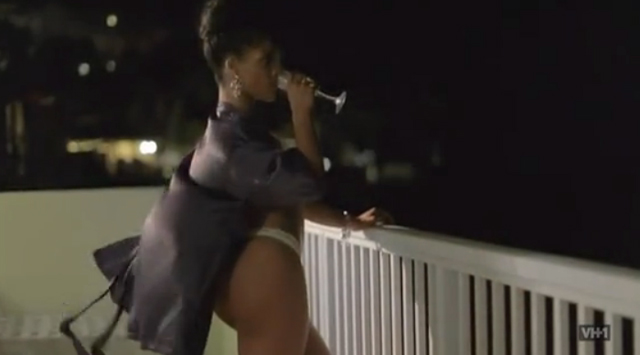 Later, Joseline decides to finally pop the big question to Stevie and show him the engagement ring she bought him. It's a startling role reversal for Stevie who is used to doing the propositioning. Will he accept Joseline's hand in marriage? We'll have to do wait till the next episode.
DAMN YOU, CLIFFHANGERS!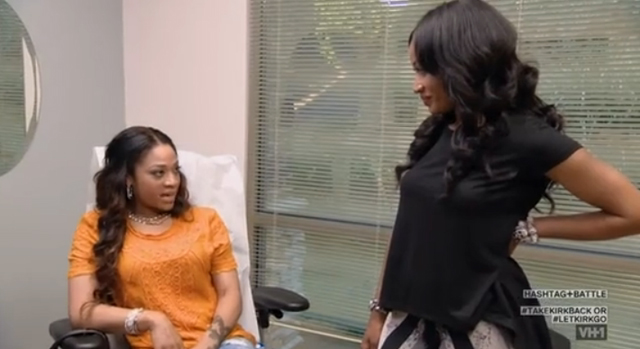 Mimi Opts for a Boob Job
Because Mimi's head is already filled wit air and silicone, she decides to get two implants on her chest to match.
Ok, I'm kidding, but seriously, this ho is dumb.
After Stevie drops a wad of cash on Mimi (it's a down payment for that puss), Mimi decides to take the gift money and spend it on a breast lift and implants. She reasons that she "deserves" it because she breastfed her child till she was 3. Uh, ain't nobody as you to do ALL THAT, m'am. Most doctors only recommend breast feeding for the first year of life. Beyond that, breastmilk is no longer a primary source of nourishment.
So what the hell was Mimi's three-year-old still doing on the damn teat?
Back to the issue at hand, because Mimi's titties hang low, she wants to get 'em done. But bizarrely, she says she's not doing it for her self-esteem, but rather herself.
Hmm. You don't say? Does this dumb bitch know the meaning of the word "self"?
Erica Dixon tags long with Mimi to lend her support, but we never get to see the final product of Mimi's boob job. Guess that'll be saved for the season finale.
Truth be told, she might've been better off spending her money on some ass injections. Just sayin'.
Be the first to receive breaking news alerts and more stories like this by subscribing to our mailing list.