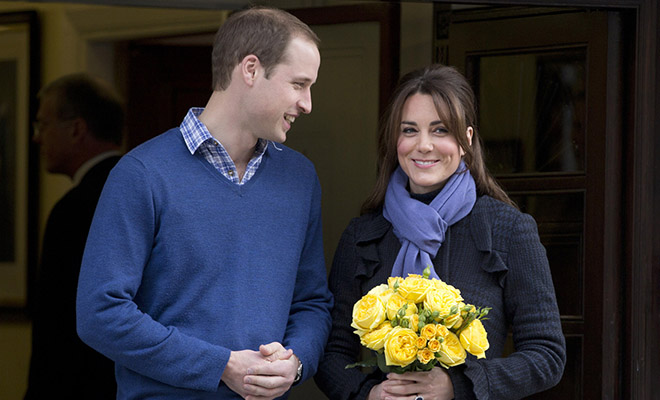 The Royal Baby is here, and it's a boy! Prince William and Kate Middleton (or "Prince William, Duke of Cambridge" and "Catherine, Duchess of Cambridge" — if you're fancy) welcomed a healthy baby boy on Monday, July 22nd at St. Mary's hospital in London.
The expectant mom was reportedly admitted at the hospital early Monday morning after she went into labor at Kensington Palace, where she and Prince William spent the weekend together.
"Her Royal Highness The Duchess of Cambridge was safely delivered of a son at 4.24 p.m.," the palace said in a statement. "The baby weighs 8 lbs. 6 oz. The Duke of Cambridge was present for the birth."
The statement continued, "The queen, The Duke of Edinburgh, The Prince of Wales, The Duchess of Cornwall, Prince Harry and members of both families have been informed and are delighted with the news … Her Royal Highness and her child are both doing well and will remain in hospital overnight."
In a separate statement released by the palace, proud father Prince William said of his new son, "We could not be happier."
The birth of The Royal Baby, whose name is currently a mystery, was announced by e-mail, a declaration posted near the gates of Buckingham Palace, and a notification via social media.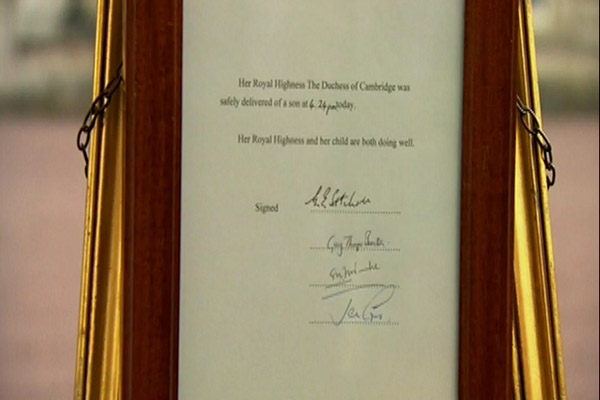 As planned, medical staff signed off on a bulletin showing the baby's gender, weight and other information (excluding his name) before a press officer brought the notice down to a waiting car, where it was then escorted to Buckingham Palace. The Royal Baby's official birth announcement was then placed on a wooden easel by the gates for all to see.
Also, this well-decorated fellow (they call him the "town crier") rang a large handheld bell and loudly read the following proclamation in front of the hospital:
"On this day, the 22nd of July in the year 2013, we welcome, with humble duty, a future king, the firstborn of Their Royal Highness the Duke and Duchess of Cambridge, the third in line to the throne. And our new prince is the third great-grandchild of Her Majesty the Queen and the grandchild of His Royal Highness the Prince of Wales … May he be long-lived, happy, and glorious, and one day reign over us. God save the Queen!"
Since Middleton's pregnancy was officially announced in December 2012, the world has been eagerly anticipating the arrival of The Royal Baby, and suspense went into a fever pitch this weekend as the media prepared for His Royal Highness to make his grand entrance.
"It's the fascination and joy everybody feels when a baby is born and then, for British people certainly, the renewal of the monarchy," Robert Lacey, author of the book 'Majesty,' told ABCNews.com. "We know that this new baby … is our sovereign who will be our figurehead by the end of this century, maybe even into the next century," he said.