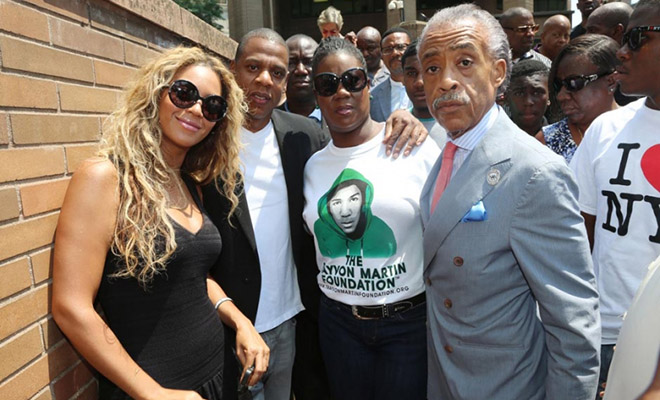 America's favorite power couple Beyonce and Jay Z attended a rally held in honor of slain Miami teenager Trayvon Martin in New York City on Saturday (Jul 20), following the controversial acquittal of his shooter, 29-year-old former neighborhood watchman George Zimmerman just the week before.
According to the New York Post, the music moguls were among more than 1,000 protesters who stood in front of One Police Plaza calling for a federal civil-rights probe of Zimmerman, who was found not guilty of murdering Martin.
The couple reportedly kept a low profile at the rally and also stopped for a photo with Rev. Al Sharpton and Martin's mother Sybrina Fulton.
While speaking at Saturday's rally in NYC, Al Sharpton acknowledged the presence of the two stars in a speech to the crowd.
"Jay Z and Beyonce said they didn't want to speak and they didn't come for a photo op," Sharpton said. "Let me tell you, that before a lot of you were down, Jay Z always supported us … Jay Z told me, 'I'm a father. Beyoncé is a mother.' We all feel the pain and apprehension – the laws must protect everybody, or it doesn't protect anybody," he continued. "We do not come from hate, we come from love of children."
"Trayvon is not here to speak for himself," Ms. Sybrina Fulton told the crowd. "Trayvon was a child, and sometimes I think that gets lost in the system."
At another rally earlier in the day in Harlem, Fulton spoke specifically about the February 26th 2012 night her son was shot dead while walking through the gated Florida community where his dad lived with his fiancee.
"Trayvon was no burglar," Fulton said. "George Zimmerman started the fight, and George Zimmerman ended the fight … My son died without knowing who killed him. He died without knowing who his murderer was."
The George Zimmerman/Trayvon Martin case has not only brought about discussions over egregious gun laws, but it has also sparked national outrage over racial profiling, drawing an emotional response from President Obama, who said in a White House press conference on Friday, "Trayvon Martin could have been me 35 years ago."
The night before Saturday's rally in his concert with Justin Timberlake at Yankee Stadium, Jay Z dedicated his song "Forever Young" to Martin. The Sunday night after the verdict was handed down, Beyonce honored the teen during her Nashville concert with a moment of silence.
Be the first to receive breaking news alerts and more stories like this by subscribing to our mailing list.