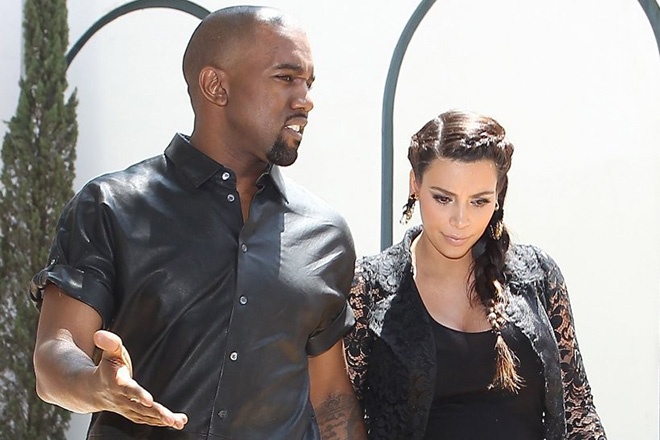 Kanye West is — gasp — actually around his girlfriend and mother of his first born. For those who watch "Keeping Up with the Kardashians" or just looked at shots of Kim Kardashian pregnant, you know that she was solo dolo most of the time. Well, minus Kanye anyway. However, 'Ye has left Milan to be with his baby girl and her mother.
The New York Post reports:
New dad Kanye West's back in Los Angeles to spend time with Kim Kardashian and their new baby, North, spies tell Page Six, after West worked in Milan for a week on a new collection of his eponymous clothing line. The "Yeezus" rapper — who received mixed reviews from fashion critics for his past two collections of women's threads — is now prepping a unisex collection of about 100 pieces, we hear, to be revealed during the fall fashion shows. We're further told West is again being advised by a team of top designers from hip brands, including his pal Nicola Formichetti of Diesel.
So he won't be around for long, huh? In any event as soon as Kanye got back to LA, he had beef with a paparazzo:
Cher has his back, though:
DEAR KANYE,THANK U,4 TRASHING THOSE LOATHSOME PARASITES,WHO STEAL OUR MOST PRECIOUS GIFTS,"TIME & PRIVACY"WE CAN NEVER GET THOSE BACK! Cher

— Cher (@cher) July 21, 2013
It! Ran after him & yelled If i catch u I'll beat u 2 death with that Camera mfr.He dropped it & Ran ! My 4 yr old child fainted ! fk them

— Cher (@cher) July 21, 2013
Be the first to receive breaking news alerts and more stories like this by subscribing to our mailing list.