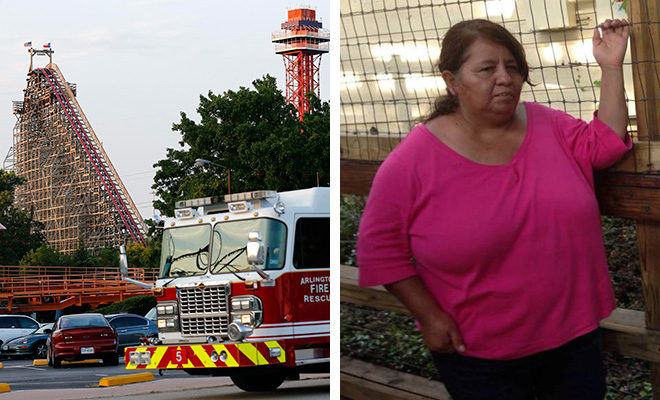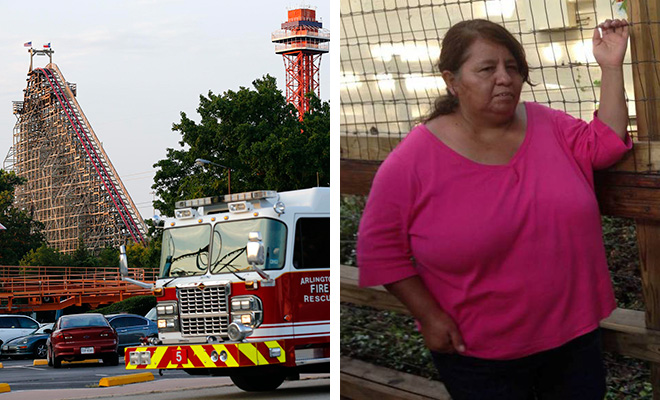 A woman died Friday evening after she fell out of a roller coaster at Six Flags Over Texas in Arlington.
"My mom! My mom! Let us out, we need to go get her!" her children reportedly screamed as their car came to a stop just after 6:30 p.m. The woman was identified by her family as Rosy Esparza of Dallas, Texas, according to the Dallas Morning News.
Witnesses told local media outlets that Esparza fell from the the Texas Giant roller coaster, which — at over 150 feet — is considered to be the tallest steel-hybrid roller coaster in world, and also boasts the world's steepest drop.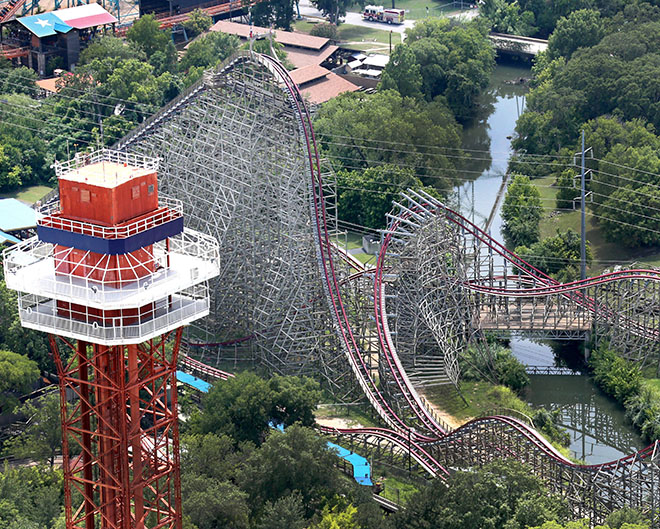 "She goes up like this. Then when it drops to come down, that's when it (the safety bar) released and she just tumbled," said Carmen Brown, who was waiting in line to get on the ride when she saw the accident. "They didn't secure her right."
Brown said that before the ride took off, the woman was concerned that she wasn't properly secured in her seat, and she notified a park employee, but he told her she fine.
"He was basically nonchalant," Brown said. "He was, like, 'As long as you heard it click, you're fine.' Hers was the only one that went down once, and she didn't feel safe. But they let her still get on the ride."
Brown said Esparza fell out of the ride as it made a sudden maneuver. "The lady basically tumbled over," she said. "We heard her screaming. We were, like, 'Did she just fall?'"
Medical staff and paramedics were quick to respond, but nothing could be done to revive the woman.
"Literally just witnessed someone fly off the Texas Giant two seats in front of me," Joshua Paul Fleak tweeted. "Restraint came undone, coaster turned and she was gone."
After shutting the ride down, Six Flags temporarily closed off the section of the park around the accident site, but the park remained open until its normal closing time, sparking a debate over whether the park should have closed altogether.
The company said in a statement Saturday morning, "Our thoughts and prayers are with the family. The investigation into the death at Texas Giant is still ongoing. We are working closely with authorities to determine the cause of the accident."
[Sources: MyFoxDFW, Dallas Morning News]
Be the first to receive breaking news alerts and more stories like this by subscribing to our mailing list.