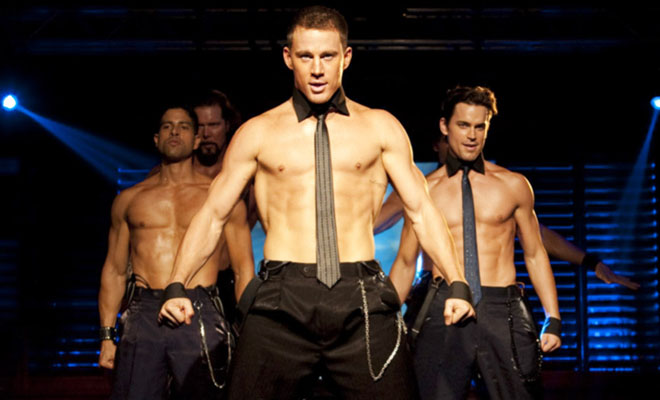 Get your dollar bills ready! Well… that is, if you have any left over after shelling out cash for those pricey Broadway tickets. After months of speculation, it has been confirmed that "Magic Mike" will be adapted into a Broadway musical.
"I'm in!" said every woman and gay/bi-curious man.
According to Deadline, the show will be produced by the film's perfectly chiseled star Channing Tatum and its director Steveen Soderbergh. Reid Carolin, Gregory Jacobs, and Nick Wechsler will also serve as producers.
Tom Kitt and Brian Yorkey will compose the songs for the show, and Roberto Aguirre-Sacasa has been tapped to write the book.
Anyone who has seen the film once or several times on a loop (like me!) will know that the flick actually has a plot and decently constructed characters. Perhaps that's because "Magic Mike" is somewhat rooted in reality. It's based on Channing Tatum's early days as an exotic dancer.
"Magic Mike" centers on a construction worker named Michael Lane (Tatum) who spends his evenings as a stripper in order to raise money for his furniture business. When he meets a struggling young man (Alex Pettyfer), he offers him the chance to stay afloat financially by dancing alongside his hunky co-workers (Matt Bomer, Joe Manganiello and Adam Rodriguez).
The film's main highlight is the club's bat shit crazy but also ripped owner (Matthew McConaughey),
Released in June 2012, "Magic Mike" earned $113 million at the box office. Funnily enough, that makes the film one of Soderbergh's highest grossing movies of all time.
The high audience turnout wasn't just due to the half-naked men though, as the raunchy comedy also earned generally favorable reviews from even the stiffest film critics. At one point, there was even buzz that McConaughey could earn an Oscar nod for Best Supporting Actor. "Showgirls" this is not.
So will the musical live up to the film? Yes, if comments from the show's producer Gregory Jacobs, who was also the film's first assistant director, are to be believed.
Last year, Jacobs told Vulture that audience members may get the full experience during the production. "Oh, you definitely might get a lap dance," he said. "Absolutely. That's happening for sure."
With all the strip clubs in NYC geared towards men, this is somewhat refreshing to hear.
If that's not enough to satisfy "Magic Mike" fans, there are still rumors that a sequel is set for development. As CNN recently reported, Channing may step in to direct the film, as Soderbergh has since retired from filmmaking. And by filmmaking, I mean directing anything that's not HBO's "Beyond the Candelabra."
No word yet on the premiere date of the play, so for now, just watch the below clip:
Be the first to receive breaking news alerts and more stories like this by subscribing to our mailing list.