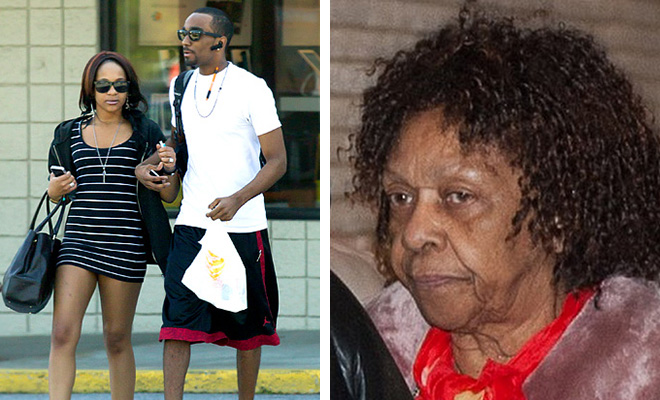 Everyone seems to think Bobbi Kristina is making a huge mistake in marrying her play brother, but not, Nick Gordon. I'd go with that, but if nothing else, maybe she can protect her money? That's the hope of the Houston family, who are reportedly pressuring Bobbi Kristina to get a pre-nup.
The National Enquirer reports:
The 20-year-old, called Krissi by pals, has publicly announced her engagement to Nick Gordon, who was raised by the late Grammy-winning singer. And that has her 79-year-old grandmother Cissy Houston and other family members fearing for Whitney's fortune, the sources add.

"Cissy's worst fears are coming true," a Houston family insider told The ENQUIRER. "She never trusted Nick and says he's an opportunist with no job. She's convinced that he's only marrying Krissi to get a piece of Whitney's $20 million estate."

The family keeps a close eye on the youngster, who's been plagued by emotional problems since her mom's tragic drug overdose death on Feb. 11, 2012.

Krissi's marriage plans so upset Cissy, she called a family meeting to discuss the disturbing turn of events.

Sources say Cissy is determined to convince her granddaughter that she's making a big mistake. If that doesn't work, she'll instruct her attorney to draw up an airtight prenuptial agreement for Nick to sign.

Krissi, whose father is R&B singer Bobby Brown, shocked her family and viewers of last year's Lifetime reality series "The Hous­tons: On Our Own" when she revealed her engagement to 24-year-old Nick. Few took the announcement seriously, but on July 10, Krissi confirmed her wedding plans in a defiant Facebook message, declaring: "People need to seriously stop judging my relationship."
Be the first to receive breaking news alerts and more stories like this by subscribing to our mailing list.