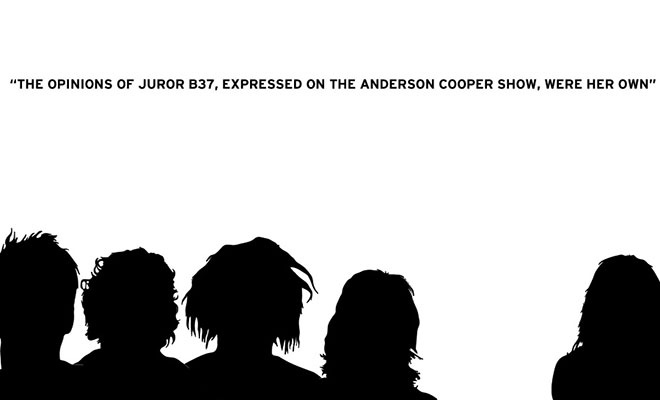 We've already heard (maybe a little TOO much) from one juror from the George Zimmerman trial — Juror B37 — but what do the other women who acquitted Zimmerman have to say about the most outspoken member of America's most hated jury?
Apparently this:
We, the undersigned jurors, understand there is a great deal of interest in this case. But we ask you to remember that we are not public officials and we did not invite this type of attention into our lives. We also wish to point out that the opinionS of Juror B-37, expressed on the Anderson Cooper show, were her own, and not in any way representative of the jurors listed below.

Serving on this jury has been a highly emotional and physically draining experience for each of us. The death of a teenager weighted heavily on our hearts but in the end we did what the law required us to do.

We appeal to the highest standards of your profession and ask the media to respect our privacy and give us time to process what we have been though.

Thank you,

Juror B-51

Juror B-76

Juror E-6

Juror E-40
In other words … fuck that bitch.
According to the Associated Press, the brief statement was issued late Tuesday night on court stationary.
After the trial ended, Juror B37 wasted no time in getting "her story" out there, signing a book deal and appearing on CNN's "Anderson Cooper 360" just two days after acquitting George Zimmerman.
But thanks to public backlash displayed on Twitter, Black Twitter, more specifically, Juror B37's literary agent "rescinded her offer of representation" just a few hours after the Anderson Cooper interview aired.
[Image: Gawker]
Be the first to receive breaking news alerts and more stories like this by subscribing to our mailing list.