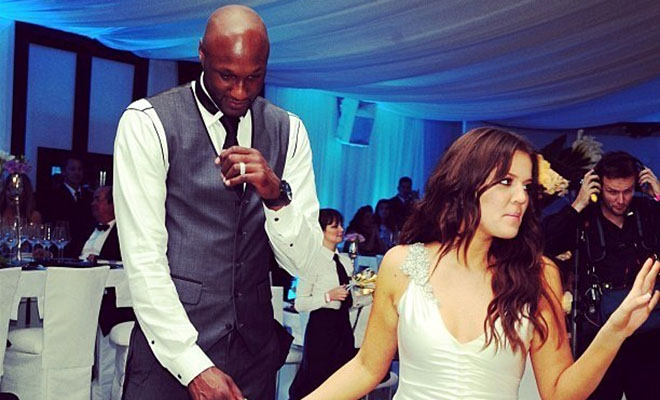 So there's a story out claiming that Lamar Odom is cheating on Khloe Kardashian. And it goes a lil' something like this:
Lamar has been cheating on Khloe since at least January 2012, a source tells the mag, when he met gorgeous 29-year-old brunette Jennifer Richardson at the Stadium Club strip club in Washington, D.C., after playing a game for the Dallas Mavericks. RadarOnline.com previously reported about how "strippers were grinding on him," during that wild night.

Khloe was furious about the report. But now, it appears, much more happened far from the eyes of other patrons.

"Lamar and Jennifer ate dinner in an intimate booth together that night, then he took off her shoes and started rubbing her feet," a friend of Jennifer's tells the mag. "The chemistry between them was off the charts!"

Lamar soon left, but the night didn't end there. Lamar allegedly called Jennifer at 3 am and invited her back to his hotel room.

"As soon as she got there, he took her phone apart and put the pieces in different spots all around the room," her friend reveals. "He actually took the battery out and the back off. She thought he was afraid that she would take photos or record him."

With that out of the way, Lamar started "grabbing her butt and kissing her sweetly on the neck," the friend says. "She said he was an amazing kisser." Although the two did not have intercourse, "they did everything else," says the source,. "It was incredibly intimate."

And it wasn't just physical. "They talked all through the night and he really opened up to her," the source reveals. For Jennifer, it was "very emotional and much more than a random thing. She was instantly smitten with Lamar." It seems the feeing was mutual. Lamar gifted Jennifer with $3,000 before saying goodbye — and promising to see her again soon, according to the mag.
Surprise, surprise, Lamar Odom isn't handling the story well.
And Khloe is taking his side, writing:
F– the papz!!!!! You f–king losers!!!!! But shout out to my hubby for posing with the fans! I love my Lam! This becomes stalking at some point!!!!! Its wild!!!! #F-ckThePaps. This is the same pap that did a hit and run but my brother and I caught him and he has the nerve to taunt us!!! Be ashamed of your self. Wow can't believe a paparazzi snuck into our gated area and violated our private property!!!!
Why can't you people just let Khloe be happy?
Be the first to receive breaking news alerts and more stories like this by subscribing to our mailing list.