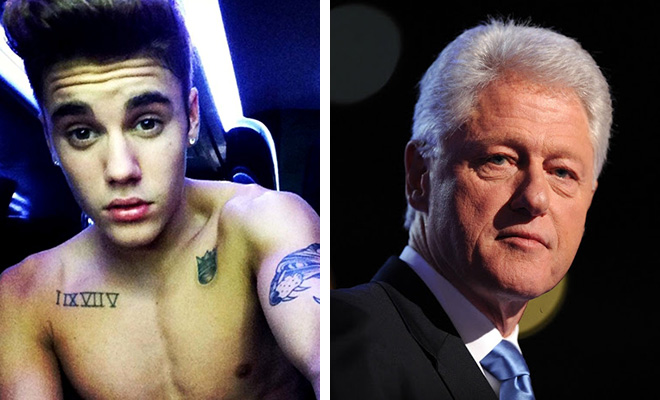 Justin Bieber is in full swing of his "Acting up with the Blacks" tour, only one of his more recent destinations just got the clap back from Chicago police authorities.
You see, Justin, who is not 21, is not legally allowed to drink booze. So what happens when he manages to be served alcohol anyway and is caught consuming?
I'll let TMZ explain:
It all went down Tuesday night at Bodi nightclub in Chi-town. We've learned … cops entered the joint after being tipped off that Bieber and his crew were inside the 21+ establishment — and allegedly boozing.

We've learned … officials questioned nightclub employees and determined Bieber was, in fact, served alcohol in the club. Bieber was immediately kicked out of the place and cops delivered a citation to the club honchos for: "Serve/allow person under 21 on premises w/o parent/guardian."

The citation specifically refers to Justin Bieber and his "entourage."

A rep for the Chicago Department of Business Affairs and Consumer Protection tells TMZ, "The ticket was issued by the police to Bodi Nightclub for admitting and knowingly having underage persons in the establishment."

The rep adds, "Typically the fine for a ticket like this would be $1,000.00, but the fine is not determined until the case is heard by a hearing officer and if the establishment is found liable for the violation."

A hearing on the matter will be scheduled for the near future — Bieber will probably NOT be forced to attend.
Meanwhile, Justin Bieber is sorry for trashing Hillary Clinton's hubby (via E! News):
After getting caught on video urinating in a mop bucket and saying "F–k Bill Clinton" while in the act, the 19-year-old actually spoke to the former U.S. president today and apologized for his actions, a source close to the situation confirms to E! News.

And it sounds as if Clinton was really cool about it!

The insider tells us that the erstwhile commander in chief took Bieber's slam in jest, saying something along the lines of, "If that is the worst thing you have ever done, all is well."

And that had to have felt good to hear, considering the rough time Bieber has been having staying out of headline-making situations lately.

"@billclinton thanks for taking the time to talk Mr. President. Your words meant alot. #greatguy," he tweeted earlier today after their talk.
Be the first to receive breaking news alerts and more stories like this by subscribing to our mailing list.