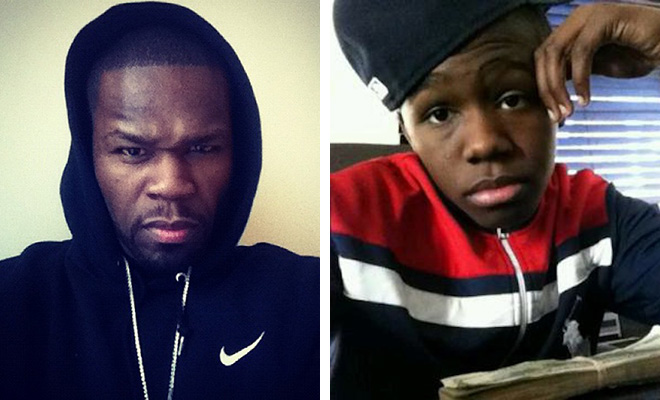 Despite celebrating his birthday over the weekend, 50 Cent has been having a pretty rough week.
Following a recent domestic violence charge, the Hip Hop mogul, who turned 38 years old last Saturday (Sidebar: Fiddy gettin old), was reportedly dropped from MLB.com's upcoming All-Star Bash the other day. And now, Radar Online is reporting that the rapper makes it a habit of cursing his son out via text messages, and has also cut the boy out of his will.
On Monday (Jul 8), Radar leaked a text message exchange between Fiddy and his 16-year-old son Marquise that had a lot of F-words coming from 50's end.
At one point 50 calls the kid — whose mother is Shaniqua Thompkins (from TLC's "Starter Wives") — a "fucking stupid…disrespectful motherfucker" and even goes as far as to suggest that he may not even be his real father because "that dick sucking bitch you call mom was fucking the hole time."
You know, typical dad stuff.
The conversation reportedly took place back in January of this year and it mysteriously surfaced just days after 50 Cent (real name: Curtis Jackson) was charged with domestic violence and vandalism in an incident with a model/actress named Daphne Joy, another baby mama of the rapper's.
According to Radar:
The angry rapper, whose real name is Curtis Jackson III, told his son Marquise to cut all contact with him in a series of expletive laden text messages — "f*ck you stop texting me," read one; "delete my number," said another — after the pair was apparently unable to coordinate a custody visitation.

At one point in the vicious communication, 50 Cent admonished Marquise and told him: "I don't have a son anymore."

The clash appeared to occur after Marquise failed to answer the door at his home to his Grammy Award-winning father.

In another missive, 50 Cent wrote: "Tell your mother she won. She has you and ill [sic] make another. I will have nothing to do with you. Don't text me ever again."

RadarOnline.com has verified the texts originated from a cell phone registered to G Unit Touring, the record label created and owned by 50 Cent.

Multiple emails to 50 Cent's attorney were not returned. Thompkins also did not return a call seeking comment.

During the text message brutal exchange, which began at 10.59 p.m. and lasted for more than an hour, Marquise bemoaned how his dad had not been a good father to him and hadn't even called for his birthday or Christmas.

"F*ck you all you want is a gift," the rapper responded. "Like your mother and your ungrateful sister."

Seconds later, he followed up with another message, telling Marquise to "delete my number" and "you never call what the f*ck I'm suppose to call you to give you something sorry."

Marquise responded, "Well if u feel that way, I don't care about no gift it's the thought that means the most, remember this money ain't everything."

Charged 50 Cent: "Good luck with you life man. I tried to come talk to you. You didn't have to have me come all the way out there if you don't to see me you little ass hole."
Radar has a full transcript of the heated text message exchange here.
While none of what was said in the text message has been neither proved nor disproved, 50 did respond to the story on Twitter, saying that it was actually SHANIQUA who was the one behind the text messages. She was using Marquise's phone and she is the one who "leaked" the screenshots to Radar Online.
"That was his mother texting me as him. She sold that to a web site. She hate me for winning. It's hard to replace me."
He also added that the whole debacle made him rewrite his will:
"I rewrote my will today now when I pass away all my physical properties and MOST of my money goes to charities and TIFFANY LIGHTY so when I'm done she can be 50cent"
Ouch.
Be the first to receive breaking news alerts and more stories like this by subscribing to our mailing list.