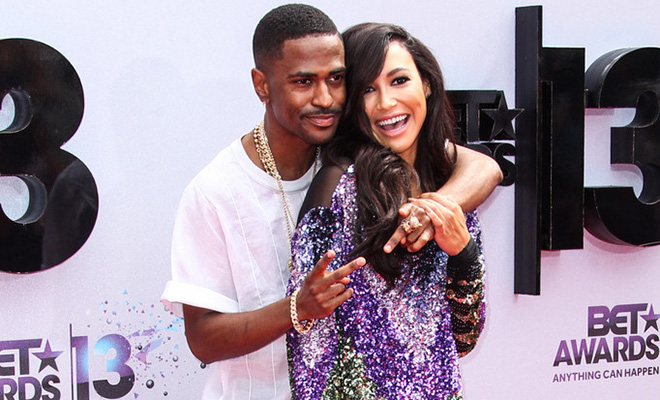 Sammy Davis Jr. lookalike and Detroit rapper Big Sean stopped by Philly's Hot 107.9 to talk about his new music, the new boo thang, "Glee" actress Naya Rivera, and whether or not he can stay faithful.
And yes, his old girlfriend came up. He's still got love for her, but it's over now. Aww, but not really for her. Be strong, boo. Get you a new piece! It's rough out here.
Anywho, quotes by way of madame Necole Bitchie:
On how he met Naya Rivera:
Someone told me that she thought I was cute, and I thought she was fine and [so] I was like lets make this happen. The first thing that happened was she followed me on twitter and I followed her back and I was like 'Whats up?' and she was like 'Whats up?'I like everything about her. I like her family. […] She's into hip hop. She likes rap, she likes all sorts of music. She be knowing rap.

On whether its been hard for him to remain faithful:
It hasn't been hard at all. I was talking to her [the other day] and I was like, ' Do you trust me?' and she was like 'Yeah, I trust you. I know you ain't stupid.' She's cool though. Away from all of that other stuff too and when you vibe with someone as a person and they relieve stress from you and it's fun to be around them, that's the kind of person you need to be around.

On writing songs about his ex-girlfriend Ashley:
My old girlfriend, I met her when I was 15 and I started dating her when I was 18. […] So you know when you're young and you go through [things] and you start growing up, you learn a few things. The song about Ashley with Miguel on it, is strictly about her. [Beware] is kinda like I got some inspiration from a couple situations and just made a story with it.

On whether he is still in love with his ex:
No, but I still love her though. I got love for her deeply. She's my homie.

On how Naya feels about him making a song about his old girlfriend, Ashley:
My new girlfriend thinks it's dope. She does her own thing. she's professional, she writes music and she's on that show Glee, so she understands. She's got songs about her old relationship.

On his celebrity crush:
I got my celebrity crush, Naya.
Be the first to receive breaking news alerts and more stories like this by subscribing to our mailing list.