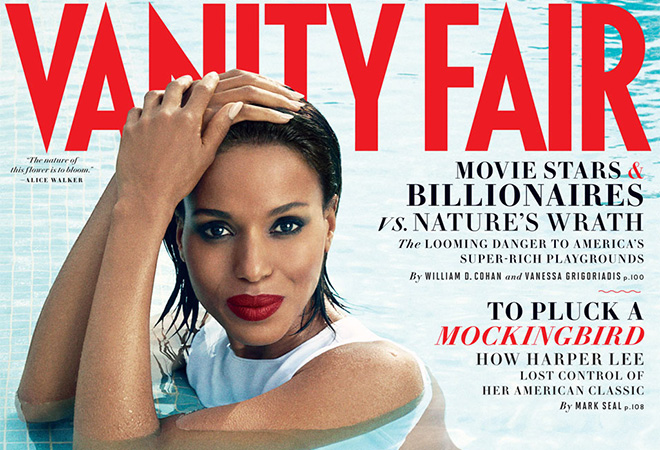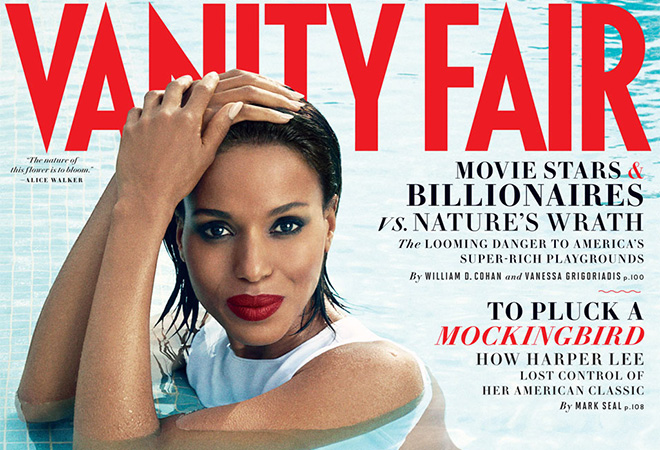 This month's issue of Vanity Fair features "Scandal" star Kerry Washington on its cover, making the actress the first black woman to be featured alone on the mag's cover since 2005 when Beyonce was profiled. (Interesting Sidebar: Beyonce also appeared on the cover in 2007, but alongside Jamie Foxx and Eddie Murphy)
So if you thought the entertainment industry was becoming more diverse … you were sadly mistaken, as it took Vanity Fair nearly an entire decade to place another woman of color (alone) on the cover of their magazine.
As many probably know, Vanity Fair is known, like many mainstream mags, for failing to include women of color. Take their annual Hollywood issue for example. This past January, the special edition issue included white actors on the cover while Washington and Quevanzhané Wallis were featured on the inside fold. Not good enough VF!
This wouldn't be the biggest deal, if the esteemed publication hadn't been pulling this shit for years. The 2012 Hollywood issue featured four white actresses on the cover, but Adepero Oduye and Paula Patton were included on the right two-thirds of the cover.
This also happened in 2011 and for years before that, leading Jezebel to post an eye-opening timeline. Last year, Washington was featured in the mag's TV issue, but was left off the cover.
Washington's growing popularity has landed her on mags geared towards black readers, but it took quite some time before she appeared on the front of the more mainstream Elle Magazine for their June issue.
But the question shouldn't be, "How has VF been able to get away with this?" It should be, "How has the mainstream media gotten away with excluding black men and women in general?"
Washington's breakout role came in 2000, when she starred in the moving indie film "Our Song."
After her scene-stealing turn in "Save the Last Dance," the actress made guest appearances on shows like "Law and Order," and before long, she was starring in high profile flicks like "Mr. & Mrs. Smith" and "Fantastic Four." By 2012, she had appeared in three Oscar-nominated films including "The Last King of Scotland," "Ray," and "Django Unchained."
Last year, she took on the role of Olivia Pope in "Scandal,"  a show that become a smash hit.
After a lengthy and distinguished career, it's about f**king time she got a Vanity Fair cover.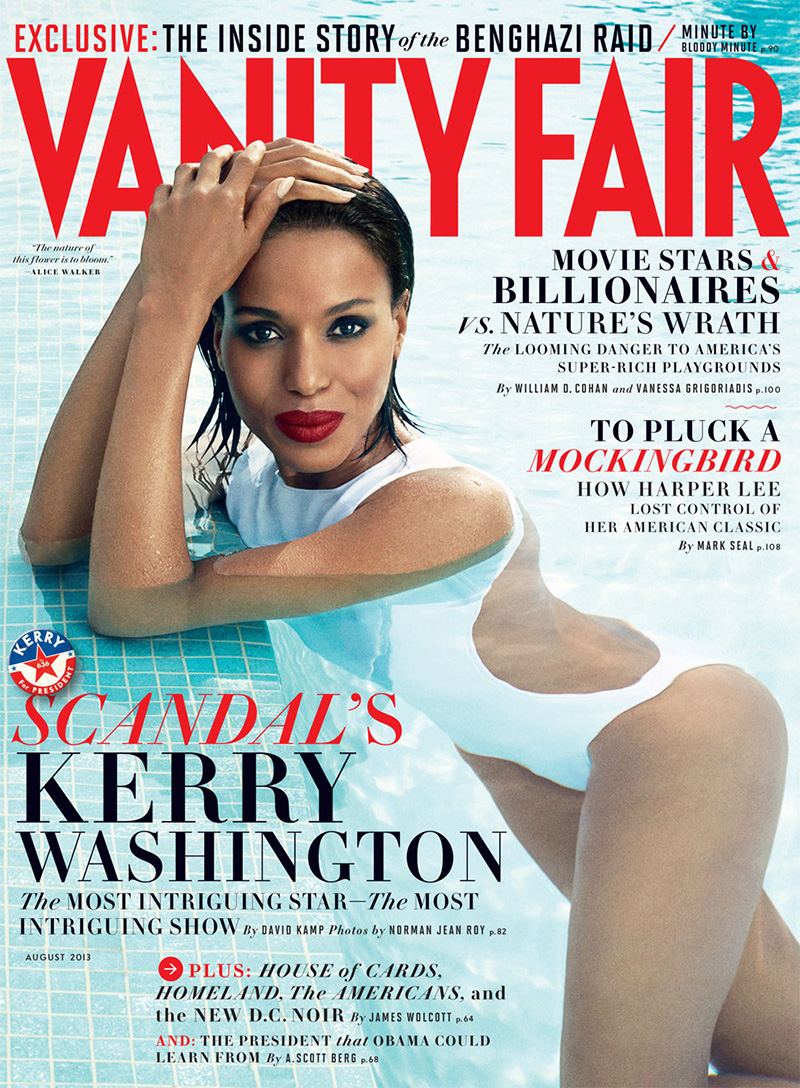 Be the first to receive breaking news alerts and more stories like this by subscribing to our mailing list.