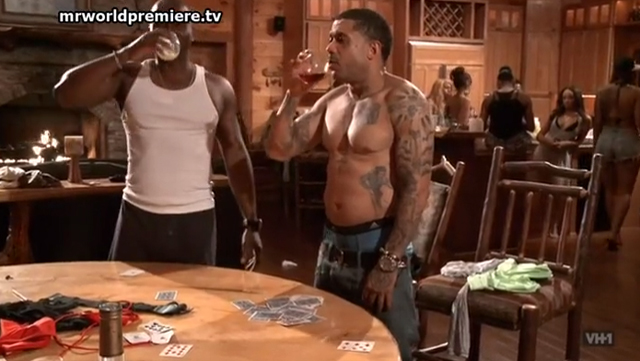 So all it takes for Kirk to completely go off the deep end is a pregnancy? You'd think this was the first time he got somebody knocked up.
Ever since Rasheeda announced her pregnancy, Kirk and Rasheeda's marriage has been in a hopeless place. The two have bickered and battled about everything, including finances and abortion. Kirk has been losing these battles for the most part as Rasheeda continues to do what she wants to do.
But with the help of Benzino, Kirk decides that it's time for him to get his groove back. Benzino, who clearly is just looking for airtime at this point, proposes that the two of them head off to a secluded cabin so they can fish quietly and ponder life. Benzino, that shit sounds like a date, bro.
Benzino is apparently bummed out because he hasn't found "love" in Atlanta yet. Well, if you're chasing after dusty scallywags like Karlie Redd, what the hell did you expect? You can't roll around in the mud and then complain about being surrounded by filth. Get out of the barn, Benzino.
Anyway, Kirk readily agrees to the trip and the two head off for their guys' retreat.
Only, it ends up being more like "House Party 3" than anything resembling male bonding and therapy.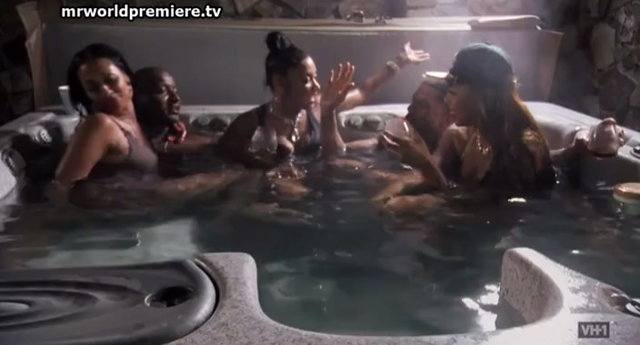 Oooh….Rasheeda's not gon' like this. But wait. Is that Bambi from "Basketball Wives L.A." sittin' on Benzino's lap?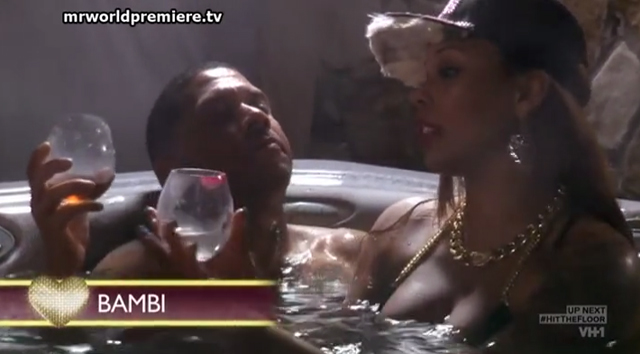 If this is VH1's way of dipping their toe in the water to see if the LHHA audience would be receptive to Bambi being a full-fledged cast member they better stop. She was nothing but an obnoxious roach on BBWLA and that role is already being filled by Karlie on LHHA.
While there hasn't been any reactions from Rasheeda regarding Kirk's implied infidelity (he walks into a bedroom with two women in nothing but his boxer briefs), her fellow femcee Nicki Minaj took the tweets to air Kirk's ass out for her. Who says Nicki doesn't have her fellow female rappers' backs?
Damn my nigga, after 15 yrs u wld embarrass the mother of your child while she's pregnant on nat'l tv like that? cornballs on deck

— QUEEN (@NICKIMINAJ) July 2, 2013
If you're trying to convince someone you're not gay that's the wrong way to go about it. Your wife is pregnant. U do that on nat'l tv? GTFOH

— QUEEN (@NICKIMINAJ) July 2, 2013
having problems is one thing, broadcasting it on a tv show for some air time is another. that woman stayed by your side. how dare u?

— Nicki Minaj (@NICKIMINAJ) July 2, 2013
Welp. Maybe Nicki will make a guest appearance next season? That would give the show a much needed boost of star power.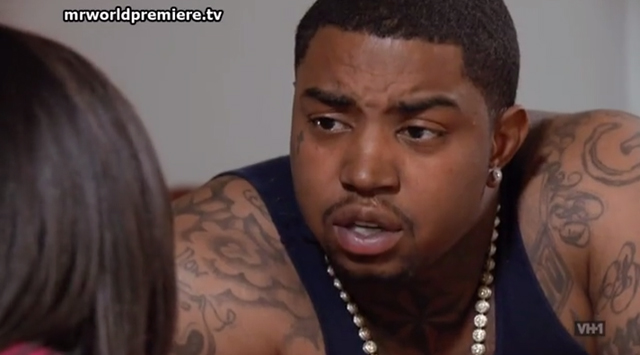 Lil' Scrappy's Jail-time Blues
Y'all might consider this cold-hearted, but here's the truth: I don't give two shits about Lil' Scrappy going to jail.
It's clear that the producers want me to feel real bad for Scrappy since they're playing the sad, weepy music as he explains to his daughter that he'll be away in prison for some time. And it's clear they want us to take this seriously in the dramatic shots of Momma Dee bursting into tears and asking why the police officers have to take him away in handcuffs.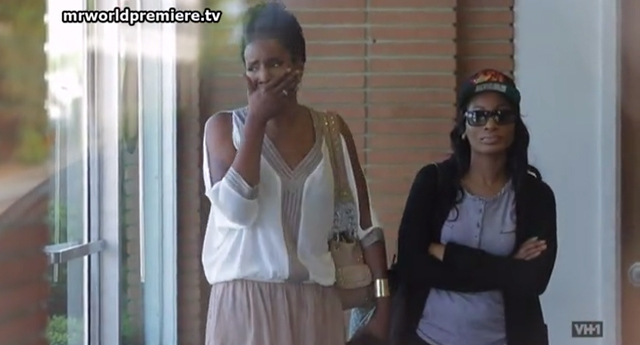 "Do they have to handcuff him? Why?" Momma Dee asks.
"Because he's under arrest," the officer flatly responds. Duh.
This might have been sadder if this was the first time Scrappy had been arrested but as Erica rightly points out, Scrappy gets himself in these situations because he refuses to mature and change his lifestyle. If it's more important for you to be there for your family and watch your daughter grow up, then you'll prioritize those things over hanging out at the strip club, carrying a piece or smokin' weed in the studio.
It's as easy as that.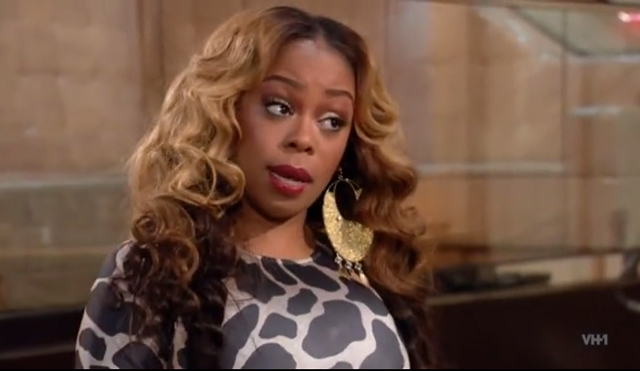 What Does Friendship Even Mean in the World of LHHA?
The word "friend" is used often on this show, but it really doesn't appear to mean the same thing that it means in the real world.
Ratchet hoes and scallywags pair up to gossip about other women and consider the bonds formed during these cluck sessions to be friendships. In reality, they're just opportunities for the film crew to get TV material.
So why the hell is DJ Traci acting so butthurt about Shay getting into a fight with Erica Dixon at Karlie's event? I mean, this chick is mad like at Shay like she sucked off her baby daddy Babey Drew.
Shay has been fucking Erica's baby daddy. She was the sideline chick. How the hell did Traci really think a peace accord was going to be hammered out between the two at Karlie's weave event?
Actually, it's not entirely Traci's fault. She's following the script she was handed. But if producers want us to play along, they really need to do a better job of setting up these conflicts. Supposedly, Traci is furious because Shay called her out her name while she was hollerin' at Erica. Shay is quick to apologize, but Traci says she doesn't believe her.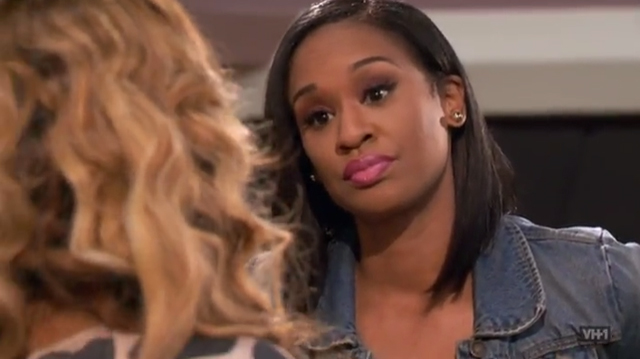 What? Bitch, Mimi just forgave her friend K. Michelle for clobbering her with flowers but you can't accept an apology over some curse words? Traci is trippin. Shay apologizes to Traci again but expresses resentment at her friend for saying that she doesn't believe she can change. At that point, things get a bit tense as Shay openly questions if they were ever really friends if Traci's so quick to draw a line in the sand over this disagreement.
Welp.
The producers really want us to feel heart-wrenched over the end of Shay and Traci's friendship, but this is anti-climactic because we have no history of their bond or friendship. As far as we're concerned, these bitches just met two episodes ago and they haven't REALLY spent that much time together on camera other than catching up at lunch once or twice.
So yeah, this is pointless.
Oh, in other news, Mimi and K. Michelle are good again. The two gal pals meet up to continue the discussion they had in that church parking lot and K. Michelle gushes about her love for Mimi. It's all good right now cause Nikko and Mimi are on the rocks. Let's see what happens when she lets Nikko back in.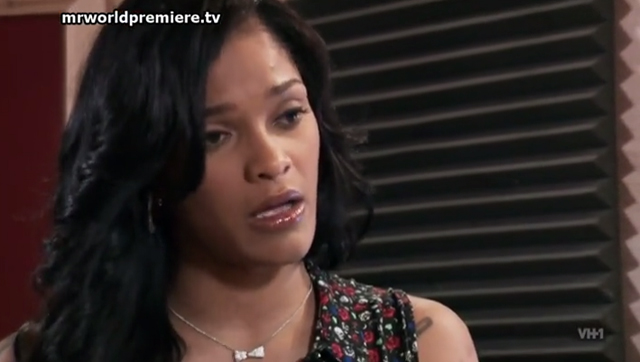 Joseline Wants Steebie to Put a Ring on It
Ugh. Y'all. Joseline has gone soft on us.
The Puerto Rican Princess is at her best on this show when she's neck-snapping, name-checking and sass-talking. Yes, it's a walking stereotype of the fiery Latina woman but damnit, I like it.
Instead of that, what VH1 has been serving us with is a misty-eyed, delicate flower of a woman who pines for the admiration of her one true love, Stevie J.
Now Joseline has always been ride or die for Stevie, but part of the uniqueness of their relationship was that Joseline thrived purely from the sexual energy of her relationship with Stevie. Yes, she caught feelings but she knew deep down that Stevie was nothing but a rabid dog who was only good for making music and babies.
So why the hell is Joseline sittin' over here asking Stevie J for a wedding ring? Is this bitch crazy? Does she forget how she got with Stevie J in the first place? If he did it to Mimi, what makes her think Stevie won't do it to her too?
The most painful part was when Joseline was trying to extract an "I love you" out of Stevie. Truth be told, as twisted as these two are, I believe he genuinely does love her. But Stevie doesn't want to appear that vulnerable to Joseline. So he hems and haws and says things like, "Is a pig pork?"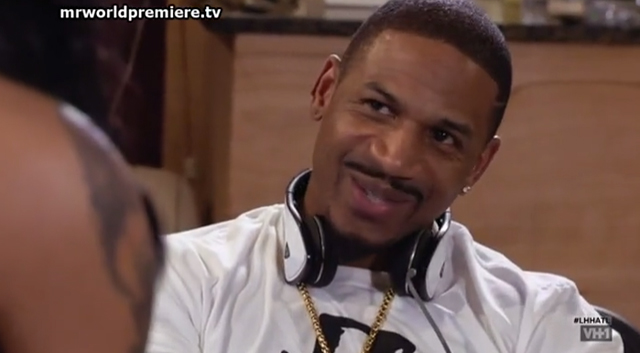 You know what, we all know that marriage between these two wouldn't be shit, but the potential for a televised Stevie J and Joseline wedding would be ghetto reality TV gold. So I guess I'm here for it.
Be the first to receive breaking news alerts and more stories like this by subscribing to our mailing list.