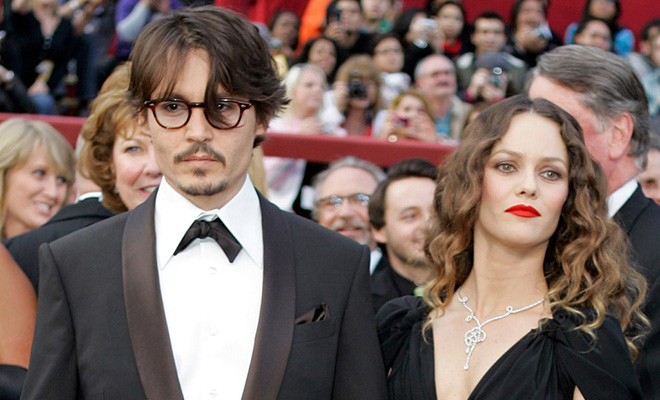 Many were shocked when news broke of Johnny Depp's split from actress, singer Vanessa Paradis. The pair, who met at a Paris party in 1998, were partners for 14 years and parents to two children Jack, 11, and Lilly-Rose, 14.
The Oscar-nominated star seldom comments on his personal life but in an interview with "Charlie Rose" on Monday, he spoke about the end of his relationship with the French-born Paradis.
"When you have children, there is no room for lies, no room for anything but the truth. Anything other than that is a bad example, I believe," Depp said.
"We were just very truthful with them and they were just incredibly understanding, incredibly accepting," he added. "I was extremely proud of them, the way they dealt with it."
Obviously, no one expects the 50-year-old to go into details about his personal life, but his statement is pretty cryptic.
Just a year prior to their breakup, Depp told the Daily Mail that he fell in love with Paradis at first site.
"She was wearing a dress with an exposed back and I saw that back and that neck, and then she turned around and I saw those eyes, and — boom! My life as a single man was done," he said. "You have this feeling — I can't really explain what it was, but I had it when I met her. I saw her across a room and thought: 'What's happening to me?'"
Not long after the breakup, Depp was rumored to be dating his "Rum Diary" co-star Amber Heard. We would point out how strange it is that she's 27 and 13 years younger than Depp but who really found this surprising?
Interestingly enough, Heard's relationship with artist girlfriend Tasya van Ree ended just as reports she was seeing Depp began to surface. Heard began dating van Ree in 2008 and came out as a lesbian at the GLAAD 25th Anniversary Celebration in 2010.
Depp will soon be seen in the action flick "The Lone Ranger," opposite Armie Hammer and Helena Bonham Carter.
Unfortunately, early reviews for the film have been abysmal. That doesn't mean audiences will skip the film, remember how many people turned out the see those predominately crappy "Pirates of the Caribbean" movies?
Be the first to receive breaking news alerts and more stories like this by subscribing to our mailing list.