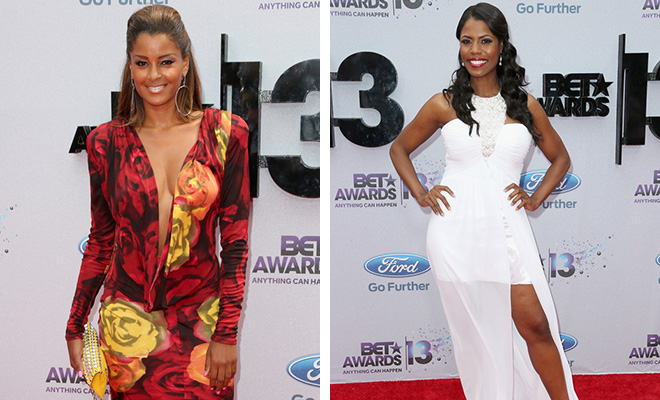 Can't we all just get along? Apparently not when it comes to Claudia Jordan and Omarosa Manigault.
If you hadn't heard already, because you didn't partake in the latest season of "Celebrity Apprentice," Claudia and Omarosa got beef. The two women actually used to be friends, but they clashed on the show when Claudia felt that Omarosa stabbed her in the back.
Throw in some jabs from Claudia about Omarosa using her late fiance Michael Clarke Duncan's funeral as a press opportunity, and you have the ingredients for some good old-fashioned "celebrity beef."
While on the red carpet of the 2013 BET Awards, Claudia Jordan says Omarosa's mother Theresa Manigault "assaulted" her after the women got into a heated verbal argument.
Claudia says Omarosa called her a "stupid bitch," and apparently Momarosa (Omarosa's mom — as she is sometimes called) overheard everything and took it upon herself to punch Claudia in the arm. Security was quick to separate the women so that the incident didn't escalate any further, but that was far from the end of it.
Claudia Jordan told TMZ that she filed a police report, but not before she tweeted (and later deleted):
"Wow that awkward moment when you're assaulted on the red carpet…"
Sources told Perez Hilton that instead of letting security handle the situation, Claudia's rep went around pitching the story of her being "assaulted by Omarosa's mom" to a bunch of different media outlets on the red carpet.
In fact, here's an "interview" she did with Baller Alert right after the (alleged) scuffle:
But hold up, wait a minute. Omarosa has a TOTALLY different side of the story! She claims that Claudia started with her, and actually pushed her mother, who has also filed her own police report.
"Claudia shoved Omarosa's mother," another Perez Hilton source revealed. "Omarosa didn't even see anything happen because she was on the CNN platform giving an interview. But security grabbed Claudia and made her leave the carpet."
Omarosa later told TMZ, "I am deeply saddened by Claudia Jordan's actions at the BET Awards. After all that my family and I been through this year. She should show at least an ounce of decency and respect"
She also tweeted (and DID NOT delete):
Please don't believe the hype! There was no drama w/ my mom & that briefcase model at the #BETAwards. Briefcase twit called TMZ 4press!!

— ?OMAROSA? (@OMAROSA) July 1, 2013
It's also being said that Claudia hit Omarosa with a low blow to get back at her for the alleged punch. Someone overheard Claudia say the following:
"What's it like shacking up in Michael [Clarke Duncan]'s house? 'Cause I know you're squatting!"
And in response to this story making headlines, Omarosa released the following public statement:
"Her story is absurd and it keeps changing and getting more dramatic. I truly am deeply saddened by Claudia Jordan's decision to create drama with my Mother where there is none. I am not surprised with all of Claudia's financial problems, bankruptcy, IRS issues etc… that she is looking for a an opportunity for a pay day. We will not feed into her media ploy."
Omarosa also denies Claudia Jordan's claims that Momarosa punched her. She told Hip Hollywood: "You know my mother. You know my mother wouldn't punch Claudia Jordan… They bumped into each other, but there was never a punch thrown. It's a non-story."
But, of course, Claudia is sticking to her side of the story: "It's really not that big of a deal. There were some things said and she punched me in the arm as she walked by."
Whatever. It's hard to tell who's telling the truth. Maybe Claudia did "push" Momarosa, and maybe Momarosa did "punch" Claudia Jordan in the arm. Who knows? Who cares?
One thing is for sure though … Omarosa "wins" with that briefcase model comment alone!
[Sources: TMZ, Perez Hilton, Baller Alert, Hip Hollywood]
Be the first to receive breaking news alerts and more stories like this by subscribing to our mailing list.