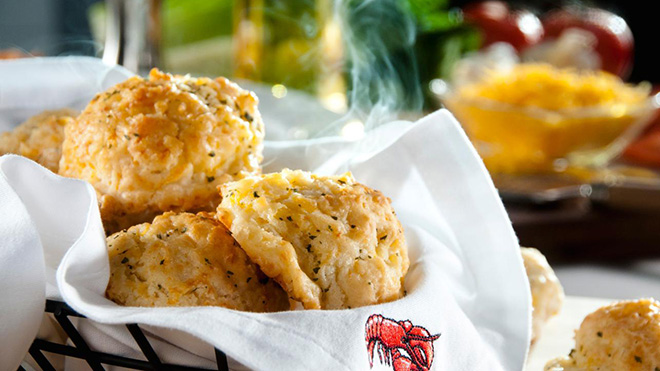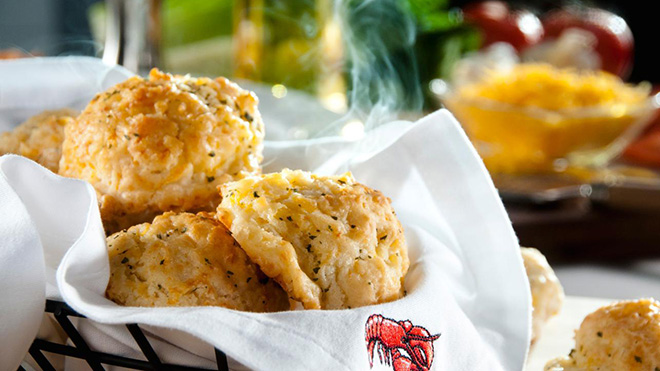 A man who goes by the moniker The Mighty Rib reportedly found himself in a coma after consuming over 400 delicious cheddar bay biscuits at Red Lobster.
According to Rock City Times, food writer Kevin Shalin tried those signature Red Lobster biscuits for the first time and "thought they were the most wonderful things he ever placed in his mouth." (Pause!) Then, he OD'd and went into a damn coma, purportedly.
More from Rock City Times:
Red Lobster's signature Cheddar Bay Biscuits are given out free to guests with each meal. The restaurant lists the biscuits as 150 calories each and a chef for the restaurant tells us they have approximately 1/8th of a stick of butter in each. UAMS doctors are speculating that it is the equivalent of 51.5 sticks of butter that Shalin ate that is causing the coma.

"After he ate the first one he looked at us and asked if the biscuits are really free," another guest, Kelly Gee, tells us. "I said 'heck yeah those are free, eat as many as you want.' After about 30 I see him over asking the manager about the record for most biscuits eaten at one time. He just came back and said I think I can do 415, and started really digging in. His beard was covered in crumbs."

Shalin reported feeling dizzy upon consuming #412. Friends encouraged him to stop, but he continued with #413. Immediately after eating Shalin fell on the ground convulsing.

Doctors believe the butter from the biscuits have blocked signals coming from Shalin's brain. In an early morning update hospital officials state that they have drained approximately 2 gallons of butter already and expect him to make a full recovery once the rest is clear. Shalin is expected to be released in time for his visit to Golden Corral's chocolate wonderfall later next week.
Crazy story, right? Of course! Too bad it isn't real.
You see, "Rock City Times" is a satirical news parody site, just like The Onion, and NONE of their articles — like this one about the man going into a coma after eating 413 cheddar biscuits — are true, nor should they be taken seriously.
This particular faux report was said to be written by a friend of Kevin Shalin, who is not in the hospital recovering from a cheddar bay biscuit induced coma, by the way.
Since most online news sources are thirsty for traffic, they will literally post anything that sounds crazy enough for people to click the hell out of, and share with all of their Facebook friends … so huge British sites like The Sun, Daily Mail and the Mirror all wrote about the story as if it were true.
Even Canada's The Globe and Mail got fooled by the hoax and later admitted to falling victim to it, but their friends on the other side of the pond weren't too forward with admitting they were tricked. The Sun, Daily Mail and Mirror all deleted their stories without telling their readers that they were fake.
But in case there was still any confusion lingering, Kevin Shalin, aka The Mighty Rib, himself sent out the following tweet:
To my Houston friends who just heard the story on the radio…it is NOT real. It is fake. I am fine. I did not eat 400+ biscuits. #satire

— Kevin Shalin (@TheMightyRib) June 24, 2013
Be the first to receive breaking news alerts and more stories like this by subscribing to our mailing list.