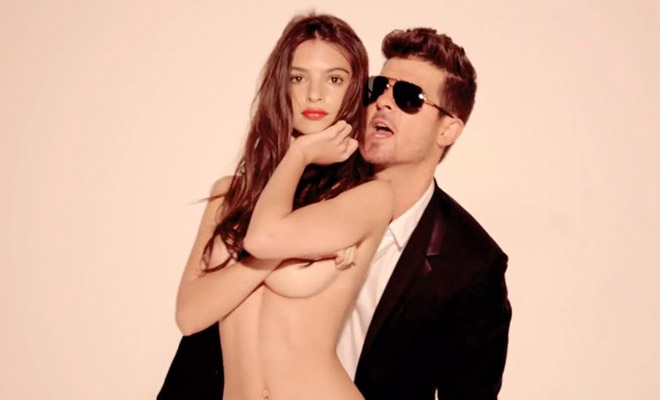 Now that Robin Thicke's "Blurred Lines" song is the No. 1 song in the country, it's only natural that people take its lyrics, dissect the hell out of them and criticize every little thing about them.
BuzzFeed has noted out that a number of writers/bloggers have pointed out that song's lyrics are "rapey" and "degrading" towards women. The biggest beef people have with the song is the fact that Thicke says "I know you want it" over and over again, and some people are creeped out by it.
One blogger called "Blurred Lines" disgusting:
Basically, the majority of the song (creepily named "Blurred Lines") has the R&B singer murmurring "I know you want it" over and over into a girl's ear. Call me a cynic, but that phrase does not exactly encompass the notion of consent in sexual activity.
Another blogger said that the songs lyrics were dangerous:
I believe that songs and videos like Robin Thicke's, although possibly well-intentioned and meant to be light-hearted, are fuelling a culture of sexual exploitation and violence which exists more openly than ever in our society. For as long as we have been able to have sex, men and women have sexually assaulted other men and women (and children). The problem now is that the increasing "pornification" of our society and the rise in songs, videos, TV programmes and films which promote violence and the degrading of both women and men, means that this problem is rising.
The Daily Beast writer Tricia Romano noted that some female listeners are uncomfortable about the song's hook:
The nudity might be fine if the song was called, "Let's All Have Some Fun," but it's called "Blurred Lines," and the subject itself is enough to make some female music fans uncomfortable. The song is about how a girl really wants crazy wild sex but doesn't say it — posing that age-old problem where men think no means yes into a catchy, hummable song.
Last month, in an interview with GQ, Thicke explained that the song's "rapey" undertones and its accompanying controversial music video were all done on purpose:
We tried to do everything that was taboo. Bestiality, drug injections, and everything that is completely derogatory towards women. Because all three of us are happily married with children, we were like, "We're the perfect guys to make fun of this." People say, "Hey, do you think this is degrading to women?" I'm like, "Of course it is. What a pleasure it is to degrade a woman. I've never gotten to do that before. I've always respected women."

So we just wanted to turn it over on its head and make people go, "Women and their bodies are beautiful. Men are always gonna want to follow them around." After the video got banned on YouTube, my wife tweeted, "Violence is ugly. Nudity is beautiful. And the 'Blurred Lines' video makes me wanna…" You know. And that's the truth. Right now, with terrorism and poverty and Wall Street and Social Security having problems, nudity should not be the issue.
Not to take away from this point these women are trying to prove or anything … but sometimes, a song, is really just that. A song.
It's highly doubtful that Robin Thicke, Pharrell and T.I. are subliminally telling men to grab every woman they see in the club and date rape her because "he knows she wants it." Ridiculous!
Be the first to receive breaking news alerts and more stories like this by subscribing to our mailing list.