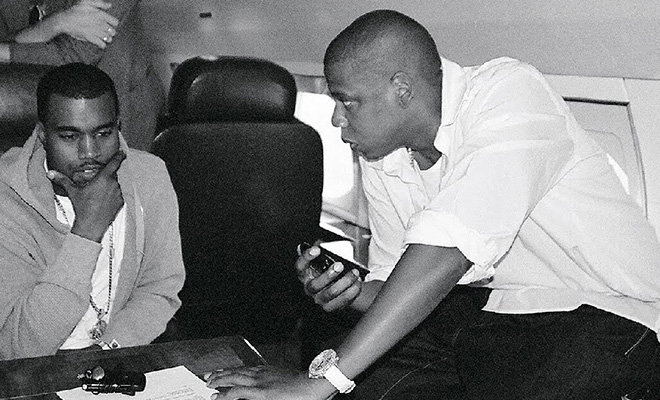 In "OMG, why won't you just let me shine!" news, a few people seem to take offense on behalf of Kanye West as it relates to "big brother" Jay-Z announcing his new Samsung deal — which includes the phone provider pre-purchasing a million units of his new album — the week of Kanye's anticipated new release, 'Yeezus.'
After all, Jay-Z's second best talent is attention whoring, so naturally I'm sure he was well aware of the reality that news of 'Magna Carta Holy Grail,' due next month, might take away from 'Ye's attention, even if for a lil' bit.
Some people have been far more verbal about Hov's timing of the announcement than others:
He may have served as tour DJ for Kanye West, known to be a good pal of Jay-Z, but the close association did not stop DJ A-Trak from making some unflattering comments about the Roc Nation mogul's recent Samsung TV commercial. The Fool's Gold Records founder/producer thought it was all too "corny."

"That Samsung sh** is corny," A-Trak tweeted Monday morning, June 17, about the way Jay-Z announced his new album's release through a Samsung smartphone commercial. The DJ seemed to disagree with other Twitter account users, mostly rappers too, who commented rather favorably on Hov's latest move, like Soulja Boy who thought "that Jay-Z commercial was dope."

Perhaps DJ A-Trak got irked with Jay-Z's timing, if morning show host Peter Rosenberg's tweet got it right, that "JayZ has managed to overshadow the biggest week of hiphop releases of the year and his album doesn't come out til mid July," that album being West's "Yeezus". Jay-Z's Samsung commercial came out at halftime of the NBA Finals game on Sunday night, on the eve of Yeezy's new album debut.

Record producer Polow da Don may have summarized the sentiments of Jay-Z's bashers, putting it rather bluntly by tweeting, "Roc*Nation is greatness…the rest of these ni**az are scared and steady kissin these crackaz a**…"
Eh. Between Kanye getting rave reviews, headlines for pissing off victims of Parkinson's disease with new lyrics from the album, and you know, having a baby with the biggest media whore on planet Earth, I think he'll be okay regardless of suspicions about Hov's intentions.
Be the first to receive breaking news alerts and more stories like this by subscribing to our mailing list.