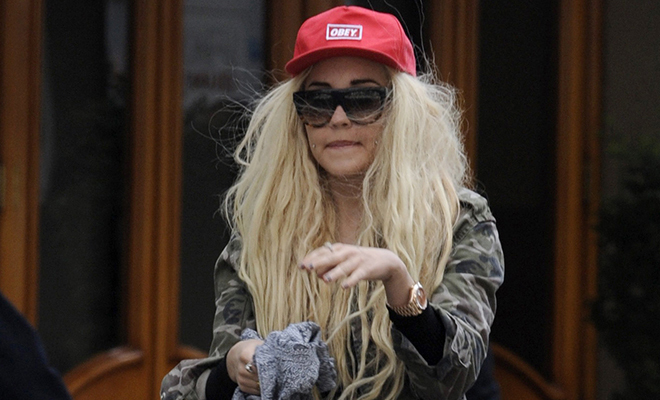 Amanda Bynes is currently in Atlantic City, NJ doing what she does best: acting the damn fool.
According to a report from the New York Post, Bynes lunged at a man after she caught him snapping a photo of her in the lobby of the Atlantic City casino Revel, where popular artists like Beyonce and Kanye West have performed multi-night concerts.
Bobby, 56, a recruitment expert from Long Island, was there celebrating Father's Day weekend with his son Brett when they randomly bumped into the actress wearing her trademark platinum wig and huge black sunglasses.

Brett, 22, a TV producer and comedian from Long Beach, said, "She ran into the lobby alone looking totally frazzled with a load of shopping bags and a bag to carry a dog. She tried to get into the elevator, but then came out again, so my dad thought he'd try and take a picture.

"Amanda saw him and lunged at Dad trying to grab the phone, saying, 'Sir, you can't take a picture of me, give me the phone.' She kept saying it over and over again until she was screaming.

"My dad tried to walk away slowly, but she started following him, chasing him around the lobby, saying, 'I need to see your phone now,' she wanted to grab his phone and delete the picture. Finally, security stepped in and we managed to get away from her.

"Amanda seemed pretty freaked out and flustered. What she didn't know was that Dad didn't even get a picture of her, he missed and took a picture of the floor."
Bynes was also reportedly spotted playing the slot machines at Revel Saturday night with a white dog, and wearing a dress with the security tags still attached.
TMZ also posted some photos someone sent in of Amanda, wearing her signature blonde wig, surrounded by a bunch of random people and just staring at her cell phone. She posed for some photos with fans too, but reviewed every single picture taken, and if she didn't like the way she looked, she demanded they be deleted on the spot.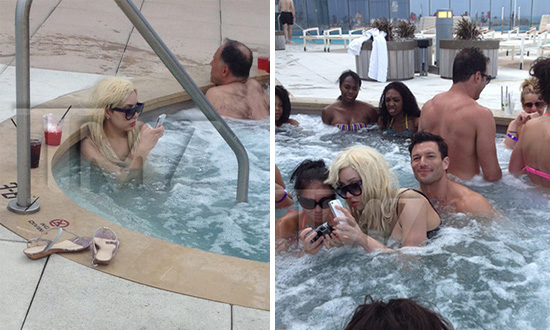 Nothing too out of the ordinary for Amanda Bynes.
Be the first to receive breaking news alerts and more stories like this by subscribing to our mailing list.