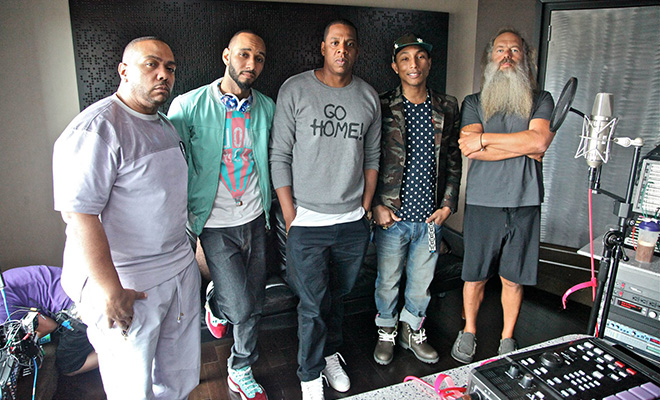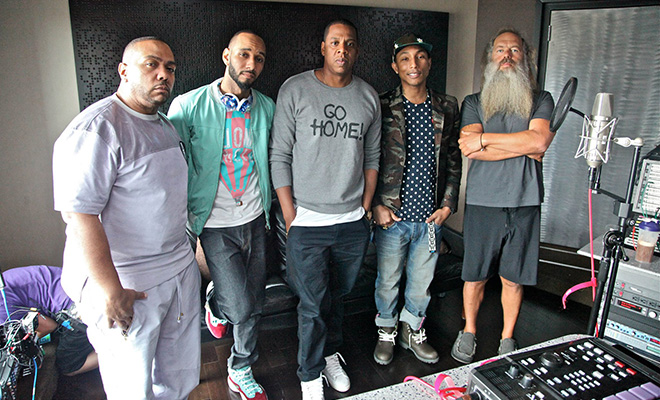 If you could put together a dream team of hip hop producers for Jay-Z, you probably couldn't do better than getting Pharrell Williams, Timbaland, Swizz Beatz and Rick Rubin in the same room.
In a behind the scenes look at the work Jay has put into his latest humbly named album Magna Carta Holy Grail fans get a sneak peak at the creative process behind Jay's next solo album, which is set to be released on July 4. Fans who have a Samsung Galaxy S3, S4 or Note II will have access to the album before everyone else through an exclusive Magna Carta app that will be released on June 24th.
In the video, we get to see Jay in his element as he chops it up with producers Rick Rubin, Timbaland, Swizz Beatz and Pharrell. Unfortunately, Kanye West isn't on the boards. In fact, it's been a while since he's produced for anyone besides himself.
The news of Jay's new album came in a flash as the veteran hip hop star blasted the announcement out on Father's Day on his website, Life and Times. If this is Jay's attempt to top the Black Album, this could easily be the hip hop album of the year.
The only question is, can Magna Carta outdo Kanye's equally hyped Yeezus?
CHECK OUT THE VIDEO OF JAY IN THE STUDIO BELOW
Be the first to receive breaking news alerts and more stories like this by subscribing to our mailing list.