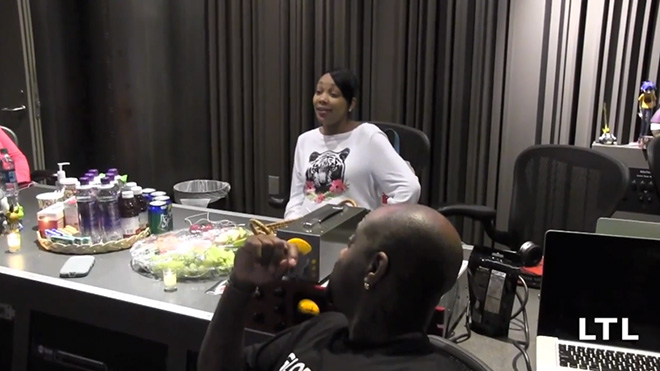 Monica offered her hood logic about child support and the court system during a conversation with Jermaine Dupri. The chat was a part of JD's "Living The Life Series." For the record, Mo doesn't go for the term "baby mama."
On that, the former teen idol and noted glock lover explained, "Let's be clear, I have two sons, I had an 11-year-relationship and two sons came from that, which was blessing and I am now married with another child on the way. So, I don't know where the 'babymama' part comes in."
She moved on to how she and her ex, Rocko, make their blended family situation work. A bunch of hood logic that only works for a select few followed. Don't believe me, just read.
Monica on blended families, child support and the courts:
People always ask me, "How do you make a blended family work?" It is what you make it. The first order of business as parents is we gotta respect one another.[…] I don't believe in the court system. I'm not steppin' in no court house, I'm not callin' them people[…]Now let me explain. This is my thing. I'm sure every situation may require something different, but for me, I feel like a real man will be man enough to assess the needs of his child, and make sure that it happens. I don't need to call you and I don't need to call the people for you.

Since I feel that way, I've never had any discrepancies with the father of my two oldest children at all, period, point, blank. When it's time for it to get done, he can access the needs, come in and see what they need and it gets done. Let me pause it, there is still the type… because I have girlfriends… that deal with the type of man that's just simply selfish… Come back from Fifths with the bags and ask, "How was your day?"
Well, Monica's baby daddy is a rapper so he comes from a place of certain means where she can afford to just not "feel" the court system and still get her money. And you know, there's the reality of her having a successful music career and a husband in the NBA. Notice she caught herself towards the end to address the kind of men other women deal it. Listen, y'all. Take that man to court if you've got to.
You can watch the video interview in full below:
Be the first to receive breaking news alerts and more stories like this by subscribing to our mailing list.