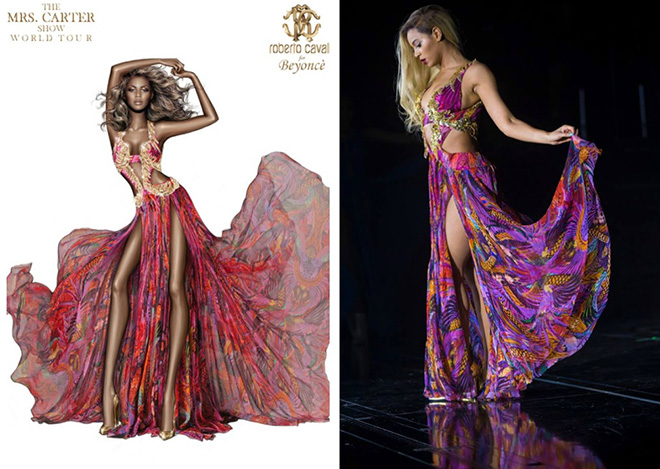 What is up with people wanting to erase Beyonce's beautiful curves?
First it was H&M, who tried to Photoshop away Beyoncé's bootylicious figure, until she demanded that they release untouched photos. She, of course, got her way with that.
And now, it's Roberto Cavalli, who has released a sketch of Beyonce (via his Facebook page) wearing one of his dresses for her Mrs. Carter world tour, looking shockingly thin.
In the photo, Beyonce barely looks human, let alone the woman with the hot body that we all know and love. She is drawn with elongated, skinny legs, emaciated-looking arms, no sign of breasts and a size 24-looking waist.
Fans on Facebook were outraged at the image. "Beyonce is gorgeous, why not draw her as she is instead of as a sickly looking runway models," one said.
Another wrote: "Why would you do such a sketch that clearly doesn't reflect her shape?! I really don't get why brands force women to follow certain kind of body shapes that most people find unattractive. This is supposed to be a sketch of Beyonce why not actually draw Beyonce instead of some imaginative image which fits the status quo for sickly looking run way models? She is absolutely gorgeous just the way she is, not as she's represented in that sketch."
Not cool, Cavalli! Not cool.
Be the first to receive breaking news alerts and more stories like this by subscribing to our mailing list.