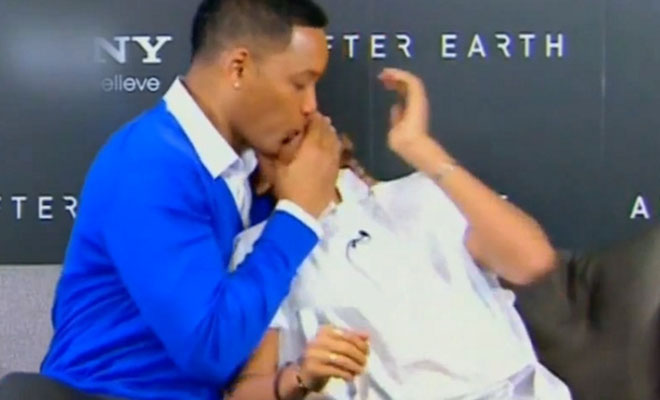 It is my personal belief that Will Smith is entering his Tom Cruise crazy stage. His latest interview may or may not confirm this. It really depends on your camera angles and whether or not you believe a goofy man in gray hair.
During a discussion about his latest film, After Earth, on The Woody Show, host Woody Milintachinda claims that Will Smith tried to kiss Jaden Smith on the mouth with a bit of his tongue. Insert "eww" here.
To be fair, you can't really tell in this clip, but I still maintain that Will Smith is getting weirder by the interview and that he's entering his Tom Cruise crazy stage. At present moment, he's on John Travolta trainwreck status. Like John, Will made an Scientology promo film guised as a big budget sci-fci action-lite flick. Both tanked for obvious reasons.
It's only going to get worse from here on out until someone snatches Papa Smith out of the spaceship.
See the clip below:
Be the first to receive breaking news alerts and more stories like this by subscribing to our mailing list.