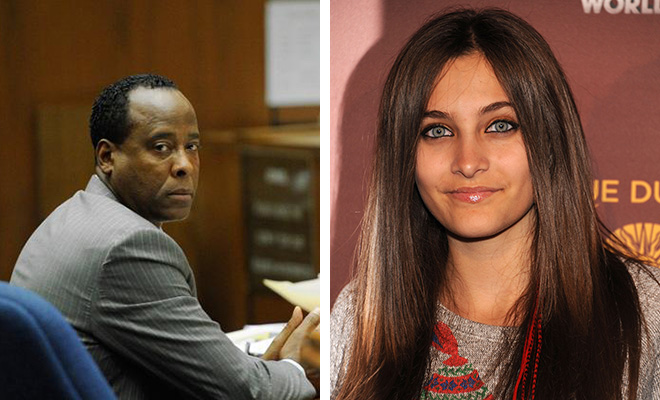 In a "You've Got To Be Out Of Your Damn Mind" report, Dr. Conrad Murray has reached out to Paris Jackson following her alleged suicide attempt.
Yes, the man who was held responsible for the death of her daddy, Michael Jackson, is trying to send some happy thoughts to her.
He reportedly used a pay phone to send the following message, "I don't know if there's anything to do to solve your pain." He also added, "I'm here for you." To add insult to injury, Murray mentions that Paris consoled him "in [her] deepest moments of grief."
From TMZ:
The message is bizarre … Murray also uses the title of a Jackson song, "You Are Not Alone." He also uses verses from "Ain't No Mountain High Enough" and "You've Got a Friend."
I wonder if Papa Joe Jackson's right hook is still intact. Looks like it needs to come out retirement for one night only.
In related news, more on how Jackson family members are handling Paris' suicide attempt:
Prince Michael Jackson has scrapped plans to appear on a German game show following sister Paris' suicide attempt earlier this week.

The 16-year-old son of Michael Jackson was scheduled to sub in for Paris, 15, on the popular series Wanna Bet? (Wetten, dass…?) but decided to stay home after she was rushed to the hospital early Wednesday morning, reportedly with cuts on her wrist.

"Under these circumstances, we perfectly understand that Prince Michael prefers to stay close to his family. We wish Paris the strength and the power to recover soon, said Silke Blömer, a representative for the German TV network ZDF, in a statement to People magazine. Wanna Bet? is being filmed this summer in Mallorca, Spain.

Paris Jackson is "physically fine," said Jackson family attorney Perry Sanders Jr. in a statement Wednesday, noting: "Being a sensitive 15-year-old is difficult no matter who you are. It is especially difficult when you lose the person closest to you."