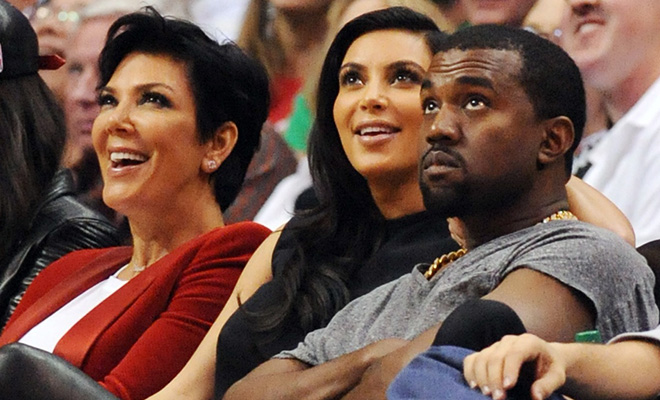 How do a recent recluse and a reality star coexist without irritating the living hell out of each other? It seems we'll be finding out in due time, though there are stories spreading that thus far, it's not going so well between Kim Kardashian and Kanye West.
That is, as it relates to Kardashian family business. Although she's carrying Kanye's child, cash rules everything around that Calabasas-centered family, and we all know how they make their money.
Such a reality is what apparently has created a rift between Kim's manager-mama Kris Jenner and her soon-to-be Daddy Yeezy.
The 32-year-old mom-to-be will deliver her daughter in July and her momager Kris wants to control how she handles the birth announcement, selling the first pictures and maximizing her financial gains from the highly-anticipated birth, a source told RadarOnline.com.

"Kris has always been in charge of Kim's life, starting with the sex tape, and now she wants to make sure she makes as much money as possible off the baby," the source said. "Kim has always relied on her mom to give her the best advice, but now she's struggling because Kanye wants to make sure that they don't overexpose their baby."

The power play between the two most important people in Kim's life has taken its' toll on the pregnant reality star, according to the source.

"Kim has been telling her friends that she's really stressed about everything," the source said. "She trusts Kris, and knows that she is only trying to help Kim, but she loves Kanye too and wants to be an equal partner with him rearing their daughter."

As her pregnancy unfolds on Keeping Up With the Kardashians, the source said Kim is unsure about the future.

"For the first time in a long time, Kim just doesn't know what to do — she feels stuck."
In other words, Kim has been willing to do whatever it takes to get her the kind of fame that would create the business opportunities she's enjoying now. However, given how thirsty she's also been to have the sort of family found on TV sitcoms from two decades ago, she might be willing to scale the attention whoring back a bit — at least with her first child anyway.
But you know, Mama Jenner ain't having it, so let 'em fight.
I normally wouldn't side with the pimp, but in this case there are two. So, I'm going to go with the one that'll likely stay with Kim the longest: Kris. Get it while you can 'cause Lord knows the prayer circles to rid the world of the Kardashians are only growing in numbers.
Be the first to receive breaking news alerts and more stories like this by subscribing to our mailing list.